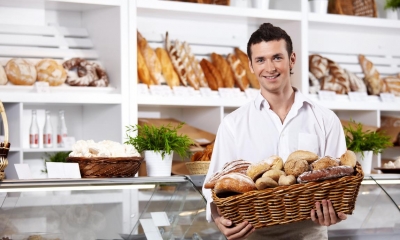 The following is an outline of some of the areas which may be relevant to your business.
What licences does a barkery need?
Because your bakery will prepare, store and sell food you will need to register with your local authority environmental health department. They will inspect your premises and help you to comply with the requirements of the Food Safety Act. It would be a good idea to contact your local authority early on in your planning so that you register in good time. There is no charge for registering.
Organic products
If you decide to sell a range of organic bakery goods you should be aware that you will have to achieve organic certification. There is an annual charge for inspection and certification. Contact the Soil Association for guidance.
Background music
If you plan to play background music in the bakery or café area you will need to obtain a Music Licence from PPL PRS Ltd. There is an annual fee for the licence.
Food safety
All businesses in the food sector must comply with strict food safety legislation. Before you open, you must register your business with the local authority environmental health department. Your local environmental health officer will be able to give you advice and guidance as to what you should install in your premises to make sure your operating areas are hygienic and how to comply with the requirements of the Food Hygiene Regulations, made under the Food Safety Act. You can find out more about all aspects of foods safety legislation on the Food Standards Agency website.
The Bread and Flour Regulations cover the permitted ingredients in bread, how bread must be labelled, and restrictions on using certain terms such as wholemeal. These regulations, together with food labelling and information regulations, specify what must be included on bread packaging or displayed alongside bread sold loose.
The Organic Products Regulations cover producing and selling organic bakery products.
New regulations have done away with the previous requirement that unwrapped bread in excess of 300g weight could only be sold in quantities of 400g, or multiples of 400g. These were called 'prescribed weights'. Now you can sell unwrapped bread in any size, but you must tell customers about quantities if you don't use the traditional 400g, 800g etc weights.
The Meat Products and Spreadable Fish Products Regulations cover the naming, labelling and minimum meat content of products such as meat pies, pasties and sausage rolls. Contact your local Training Standards Office for advice.
The Craft Bakers Association (CBA) produces many helpful publications for members covering the regulations applying to the bakery trade.
Food hygiene rating scheme
Food businesses in Wales - including manufacturers and wholesalers as well as caterers and retail premises - must display their food hygiene rating. This also applies to food businesses in Northern Ireland that sell food directly to the public. The lowest rating is 0, meaning urgent improvement is needed, and the highest is 5, indicating very good hygiene levels. There are similar schemes in the rest of the UK but these are voluntary.
Food waste
If your business produces food waste you must make sure that you dispose of it correctly. It mustn't contaminate the environment and it can't be fed to livestock. If you use a waste carrier to get rid of your waste you'll need to make sure they're properly authorised. You can find out more about your responsibilities on the Gov.uk website.
Consumer protection
The Consumer Protection Act and Regulations made under it protect consumers from unfair business practices. You can find out more on the Trading Standards Central website.
Clean Neighbourhoods and Environment Act
This legislation makes businesses responsible for clearing up any litter around their site that has originated from their retail activities. For example, this would include take-away food or drink packaging, empty crisp packets, sandwich wrappers and so on.
Carrier bag charge
A 5 pence charge applies in England, but small and medium-sized businesses (with fewer than 250 full-time equivalent employees) are exempt. You can get detailed guidance from the gov.uk website.
Retailers in Wales and Scotland must charge customers at least 5 pence if they supply them with a single-use carrier bag. This applies to all types of single-use bag, whether they are made of plastic, paper or plant-based starch. There is detailed guidance on the Gov.Wales and Zero Waste Scotland websites.
In Northern Ireland retailers must charge customers a 5 pence levy on all bags with a retail price of less than 20 pence (including any bags that would otherwise be free of charge), whether they are single-use or reusable.
Health & Safety, fire
You must comply with workplace health and safety and fire safety legislation.
Employment legislation
Anyone employing staff must comply with employment legislation. Important areas of legislation include recruitment, employment contracts, pay, working hours, holidays, employment policies, sickness, maternity, paternity, discrimination, discipline, grievances, dismissals, redundancies and employment tribunals.
Insurance for a bakery
Contact an insurer or insurance broker and explain exactly how your business will operate - they will then explain what insurance cover you must have by law, and other cover you should consider. This might include:
premises, premises contents and stock
goods in transit (for example on the way back from a cash and carry, or delivering to customers)
freezer breakdown
cash
business interruption
employers liability
public and products liability
motor insurance (for delivery and other vehicles)
Members of the Craft Bakers Association benefit from discounted rates on insurance products tailored for the bakery industry.
When comparing insurance quotes, uncover the differences between policies by using an insurance comparison form.