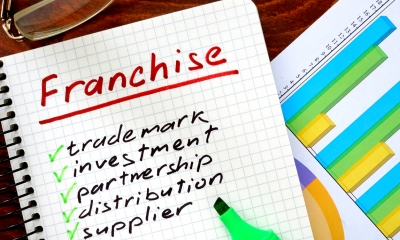 Buying a franchise allows you to set up your own business without starting from scratch. You use a tried and tested formula, and benefit from the experience and support of the franchisor (the company offering the franchise).
Buying a franchise can have both advantages and disadvantages. Careful evaluation of the franchise opportunity and its costs is crucial.
1. Franchising advantages
A franchise is usually based on a proven business idea
You are basically copying a product or service idea which the franchisor has already shown can work (but see Evaluating a franchise).
It is easy to check with existing franchisees whether the business really works.
A good franchisor will continuously research and update the business idea.
You may be able to use a recognised brand name
It can be easier to sell to customers who are familiar with the name.
You will benefit from any national promotion undertaken by the franchisor. Bear in mind though that this is often funded by additional fees.
You will also be able to use any trademarks the franchisor owns.
A good franchise operation will give you full support
Typically, this includes:
introductory training, usually covering general business skills (eg book-keeping), as well as training for that particular business
help with setting up the business, such as finding suitable premises
a detailed operations manual which tells you how to run the business
ongoing support and advice
You will almost always be given exclusive rights to the franchise
For example, in a specified region or to an exclusive client base.
There will still be competition from other related businesses.
Financing the business is likely to be more straightforward
It can be easier to borrow money to invest in a franchise with a good reputation than to find backing for an unproven start-up.
Some franchisors have relationships with banks and can help you borrow the funds you need to start up.
Local enterprise initiatives may supply start-up finance.
2. Franchising disadvantages
The initial start up costs may be higher than expected
You pay a fee to buy into the franchise (often £5,000 to £10,000, but it can be as much as £250,000).
You also have the usual business costs (premises and equipment, stock and other supplies). Some of these will need to be bought from the franchisor.
You pay a continuing royalty on sales, or a management fee. This payment can be a fixed amount or a percentage of the value of sales, or a mixture of both. You have to make the payment whether or not you are turning a profit.
Some extra costs may be charged separately. For example, a contribution towards the franchisor's advertising costs or fees for the training you receive.
As a possible franchisee, you need to be happy that the franchisor's services will justify all these costs, which will continue even after you have set up.
You have to agree to operate within certain limits
The contract between you and the franchisor will usually regulate what you are allowed to do.
You cannot change the business. For example, you cannot introduce new products to suit your local market.
You can only sell your franchise to a buyer approved by the franchisor.
You are exposed to risks which are outside your control
These include:
the franchisor failing to fulfil its obligations (eg providing support in the form of advertising or training)
the franchisor going out of business
the franchisor being sold to a new owner who changes the operation or is simply more difficult to deal with
actions by the franchisor or other franchisees giving the brand a bad reputation
Types of business arrangement
A business format franchise offers a full business blueprint
Some of the most successful franchises are business format franchises. They have all the advantages and the disadvantages of a full franchising relationship.
Examples are Burger King and Prontaprint.
Many other franchise types offer a less complete package
For example:
Distributorships and dealerships. You have an agreement to sell the product, but do not usually trade under the franchise name and have more scope to run the business as you see fit.
Agencies. You sell goods on behalf of the supplier.
Licences. You can make and sell the licensor's product, usually with no restrictions on how you run your business.
Multi-level marketing is sometimes regarded as a form of franchising
Self-employed distributors sell goods on a manufacturer's behalf, earning commission on their own sales and on sales made by secondary distributors they have recruited.
It is often difficult to make a good return from this sort of arrangement, unless you recruit many other distributors.
There are special regulations governing this type of arrangement.
3. Evaluating a franchise
The franchisor should provide an information pack
This prospectus answers all the basic questions.
Top franchisors often provide a franchise award manual. Issued after an initial interview and confidentiality agreement, it contains all the information needed to conduct due diligence.
Do not take everything at face value. Look for evidence that what the franchisor says is true, and guarantees that it will stay that way (see Final reality checks).
Do as much research as possible
If you are seriously thinking about buying a franchise, gather information from a variety of sources.
Aim to know as much about the industry and the market as you would if you were starting your own business from scratch.
Talk to your bank. Most banks have franchising specialists and can offer information and advice.
Read the trade press such as Franchise World and Business Franchise. Your business library may carry franchising magazines or hold directories of franchisors.
Go to franchise exhibitions.
You may want to talk to a consultant. Reputable franchise consultants generally work on behalf of the franchisor to develop the franchise package.
Be wary of anyone selling franchises as an agent. As a rule, good franchisors almost always sell their franchises themselves.
Get enough detail to give you a broad understanding of the business concept
What is the business?
Which trading locations or territories are being offered?
Who are the competitors? A good franchisor should provide a realistic assessment of the competition.
What steps does the franchisor take to extend and update the business concept?
Find out about the franchisor
How long has the business been trading?
How long has it been a franchisor? Many franchisors are members of the British Franchise Association. If yours is not a member, why not?
What experience and achievements do the key people have?
How solid are the franchisor's finances? Ask for three years' audited accounts and a bank reference.
How many UK franchisees does the franchisor have? If all its franchisees are abroad, or only a few are in the UK, this shows the concept is not well tested in this country. Ask how the concept has been piloted. If it has not, why not?
How many franchisees have failed? Check the reasons for failures.
Is the franchisor completely independent? If not (for example, if the franchisor is the UK licensee of a US company), check what the original owner's rights are and how these could affect you.
Check how much support you will receive
What training is provided at the start? For some franchises, selling skills are crucial.
Will you get help to set up the business? Some franchisors will provide advice on the premises and equipment you need, legal support (eg with planning permission), and so on.
What continuing support is provided? This can vary from almost nothing to full support, including holiday cover when you are away.
Can you get help when you need it? The franchisor may have support staff you can contact whenever necessary.
Does the franchisor pass on its market research to you? This can help you keep up with national trends, new competitors and so on.
Check the terms of the franchise agreement
How long will the franchise agreement run (typically five to ten years)? Check whether you have an option to renew the franchise after this time.
Will you have exclusive rights in your area for the full term of the franchise?
What conditions and restrictions are there if you want to sell the franchise?
What happens if you die, or if you cannot continue the business?
4. Franchise costs and returns
What are the costs?
How much is the up-front fee? Good franchisors usually make most of their profits from the continuing stream of royalty payments from successful franchises. Initial fees should only reflect the costs of franchise development and administration.
How much will you need to invest? Check that the franchisor's figures include realistic costs.
What percentage royalty is payable?
What price is charged for materials and services bought from the franchisor (eg stock)? The franchisor may mark up the prices. Alternatively, you may benefit from the franchisor's buying power.
What other charges (eg promotion, training) will you have to pay? Find out exactly what you get for your money.
What financial performance can you expect?
What actual returns are existing franchisees achieving? Be aware that the earliest franchises may have cornered the easiest or most profitable territories.
What financial returns are projected for new franchises? Projections of very high profits from a small investment are probably unrealistic.
5. Final reality checks
Do not commit yourself in any way before completely evaluating the franchise.
Visit the franchisor
Ask specific questions about anything which is not clear from the prospectus.
Do the people seem honest and open?
Are they trying too hard to sell the franchise to you? Do not allow yourself to be hurried into making a decision.
Get a sample contract for your lawyer to examine
Do not pay any non-refundable deposit and do not part with money until the draft agreement is seen by a lawyer.
Never enter into any franchise agreement without legal advice.
Use a lawyer who has experience of franchises. Many large legal firms have a specialist, while smaller ones may have individuals with relevant expertise.
Visit at least two franchisees - and phone at least three more
This will help you find out what the risks and opportunities are.
Ask them how their business is going, what they think of the franchisor, and what problems they are having.
Insist on a full list of all present and past franchisees, including any that have failed. Beware of franchisors who refuse to reveal this information.
Carry out your own market research in your proposed territory
Even if the business works elsewhere, you need to be sure it will work in your area.
What is the likely customer base?
What competition is there?
What are the long-term prospects?
Prepare a business plan, just as you would for any other start-up business
Base this on your own market research and on your own financial projections - not those provided by the franchisor.
Consult your professional advisers for any help you need.