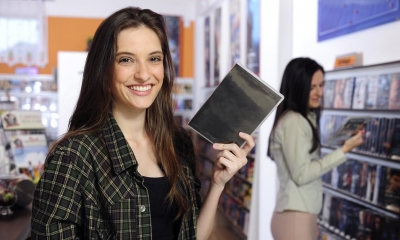 Businesses involved in either renting or selling videos and games must comply with the Video Recordings Act and regulations made under it. The Act requires DVDs and some games to be classified by the British Board of Film Classification (BBFC). Films are classified according to suitability by age group and it is a criminal offence to supply anyone below the specified age with an age-restricted title. The classification must appear (in a specified format) on all packaging, including transit or library cases used by rental outlets.
There is a mandatory classification scheme for games that are not eligible for classification by the BBFC. This is called the Pan European Game Information (PEGI) age rating system. The Games Rating Authority (GRA) is part of the Video Standards Council and licences the release of 12, 16 and 18 PEGI rated video games in the UK. Visit the Video Standards Council Rating Board (VSC) website for full details of the classification systems.
Commercial distribution of films (and video games) is covered by copyright law. A video rental shop can only legally rent out DVDs and games which carry a rental licence - it is a breach of copyright law to rent out a copy which is only retail licensed or is an unauthorised copy.
You will also have to comply with a range of other legislation. The following is an outline of some of the areas that are likely to be relevant to you.
What licences does a video rental business need?
There are no licensing requirements relating specifically to DVD rental outlets unless you want to stock adult products (R18). Then you would need to get a sex shop licence from your local authority. You can't send out rental R18 videos by post.
Remember that there are two types of copyright licences for DVDs - rental and retail. Make sure you get the right licence when you buy your stock. It's against the law to rent out a DVD which has a retail licence.
You should also be aware of the following:
businesses which keep computerised records of individuals' personal details may need to register as data users with the Information Commissioner's Office (ICO). From May 2018 the General Data Protection Regulation introduced additional protection for personal data
if background music is provided in the shop you will need a Music Licence from PPL PRS Ltd. There is an annual fee for this which you can pay online on the PPL PRS website. You may need an MPLC licence if you screen films and TV shows in your outlet
Retailing
There is a wide range of legislation that applies to retail outlets, much of which protects the interests of the consumer. For example, the retail price of goods must be clearly displayed. You will be responsible for making sure that all goods or services are fit for their intended purpose and of satisfactory quality.
Health & Safety, fire
You must comply with workplace health and safety and fire safety legislation.
Employment legislation
Anyone employing staff must comply with employment legislation. Important areas of legislation include recruitment, employment contracts, pay, working hours, holidays, employment policies, sickness, maternity, paternity, discrimination, discipline, grievances, dismissals, redundancies and employment tribunals.
Insurance for a video rental business
Contact an insurer or insurance broker and explain exactly how your business will operate - they will then explain what insurance cover you must have by law, and other cover you should consider. This might include:
premises, premises contents and stock
cash
business interruption
employer's liability
public liability
business motor insurance
When comparing insurance quotes, uncover the differences between policies by using an insurance comparison form.