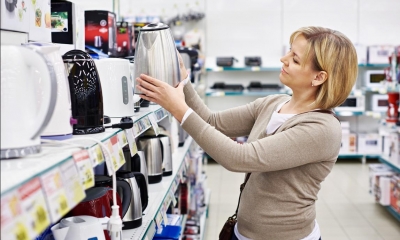 Some of the key areas where legislation is likely to affect your business are listed below.
What licences does an electrical shop need?
There are no general licensing requirements relating specifically to electrical retailers. So depending on the range of specific business and retailing activities you engage in, you may not need to do anything further with regard to licensing matters.
Television dealers
Television dealers were previously required to register with TV Licensing and pass on to them details of each relevant sale. However, this requirement was removed in 2013. Dealers do not require a television licence to display, demonstrate, repair and test television equipment at their premises. They do need a licence though if they use television for other purposes - for example for staff to watch in a staff room. Television dealers can contact TV Licensing to register as exempt from the normal television licensing requirement.
Other licensing matters
You should also be aware of the following:
if credit facilities are offered to consumers you will need consumer credit authorisation from the Financial Conduct Authority (FCA)
if background music is played in the shop you will need a Music Licence from PPL PRS Ltd
businesses that keep computerised records of individuals' personal details - perhaps for finance purposes - may be required to register with the Information Commissioner's Office (ICO)
businesses that are prepared to accept cash payments of 10,000 euros or more (or equivalent in any other currency) must register as 'high value dealers' with HM Revenue & Customs and put in place anti-money laundering systems
Some businesses that sell or arrange insurance products need to be authorised by the FCA. However retailers (but not motor traders) who sell insurance-backed extended warranties for products they sell are exempt from this requirement. Most independent electrical retailers are likely to be covered (where applicable) by this exemption.
Distributor take-back schemes for waste electrical goods and batteries
Retailers who sell electrical goods to private householders are required by law to make provision for the proper disposal of waste electrical and electronic equipment (WEEE). Those that don't offer their own in-store take-back service must join a distributor take-back scheme.
Valpak runs a national distributor take-back scheme for the UK. By signing up to the scheme, you won't have to offer your own in-store take-back service and comply with the other requirements of the WEEE regulations. Your customers can dispose of their items safely and properly at a designated local civic amenity site.
You can find out more about the Valpak distributor take-back scheme, including membership costs, on the Valpak website.
If you sell more that 32kg of portable batteries each year then you must join a battery compliance scheme so that you can offer your customers a free battery take-back service.
If you are going to carry away other people's waste electrical goods (for example, taking away a customer's old television when you set up a new one), you will need a certificate of registration as an upper tier waste carrier (or the equivalent in Scotland). This is issued by:
the Environment Agency in England
Natural Resources Wales
the Northern Ireland Environment Agency
the Scottish Environment Protection Agency (SEPA) in Scotland
It currently costs about £155 for the initial registration fee (a bit more in Scotland, a little less in Northern Ireland) and a further renewal fee of about £105 every three years.
Electrical goods
Specific regulations cover the safety of many products and you must only stock goods that comply with these regulations. Your suppliers should be able to confirm that the goods you purchase from them comply with the appropriate standards. An EC Energy Label must be displayed on all new refrigerators, freezers, electric ovens, washing machines, dishwashers, tumble dryers, air conditioners and televisions (light bulbs are also covered).
Extended warranties
If you offer your customers the option to buy an extended warranty for their goods then you will need to comply with special regulations covering the sale of extended warranties on electrical goods. These cover matters such as the provision of information, written quotations, and cancellation rights.
Selling online
If you sell goods online then there's special legislation that applies to your business. It covers matters like the information you must give on your website, distance selling and email privacy. There's detailed guidance on your legal obligations to consumers, and on the requirements when selling online, on the Trading Standards Business Companion website. More information about special legislation for online retailers is also available on the Gov.uk website.
Waste Electrical and Electronic Equipment (WEEE)
The WEEE Regulations aim to minimise the impact of waste electrical and electronic equipment on the environment. As you will be selling electrical and electronic products to domestic customers, you are required to give customers information about WEEE, provide a free like for like take-back service for waste electrical goods or join the distributor take-back scheme. This is to allow customers to return old appliances when they buy new equipment. You can find out more on the Gov.uk and Northern Ireland Environment Agency websites.
The requirement to offer a free take-back service also applies to retailers that sell more than 32kg of portable batteries each year.
Licensing of second-hand dealers
You might decide to sell some second-hand items. Local authorities in Scotland require second-hand dealers to obtain a licence or registration to operate. This applies unless dealing in second-hand goods is only incidental to the main business activity. Elsewhere in the UK, some local authorities license or register businesses (with some specific exemptions) where second-hand dealing is the main or a significant part of the business and is not just incidental. If you are in any doubt as to whether second-hand dealer licensing may apply to your business, contact your local authority trading standards department for guidance.
Retailing and consumer protection
There is a wide range of legislation that applies to retail outlets and that protects the interests of the consumer. For example, goods and services must not be misleadingly described and the retail price of goods must be clearly displayed. You will be responsible for making sure that all goods or services are fit for their intended purpose and of satisfactory quality.
Under regulations which cover customer disputes and resolution, you'll need to be able to give your customers details of a certified 'alternative dispute resolution' provider for your industry sector. And you'll need to inform them about whether or not you intend to use that provider in the event of a dispute.
More information about general consumer protection legislation is available on the Trading Standards Business Companion website. Your local trading standards department should also be able to advise you if you have a specific query.
Consumer credit
If your business is authorised to offer consumer credit then you will need to comply with all relevant consumer credit legislation. You can find out more about consumer credit legislation on the Financial Conduct Authority (FCA) website.
Insurance for an electrical shop
Contact an insurer or insurance broker and explain exactly how your business will operate - they will then explain what insurance cover you must have by law, and other cover you should consider. This might include:
employer's liability
public liability
product liability
premises, premises contents and stock, including plate glass cover
goods in transit (for example on the way back from a supplier)
cash
business interruption
motor insurance (for delivery vehicles)
cover for customers' items held for repair or servicing
It is worth noting that some trade associations and buying groups offer their members special insurance policies, which might save you money and provide the level of cover you need.
When comparing insurance quotes, uncover the differences between policies by using an insurance comparison form.