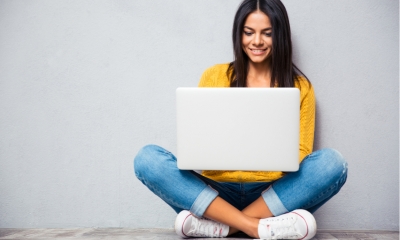 A new report has found that remote working boosts flexibility and productivity for self-employed workers.
New research by freelancer body IPSE and People Per Hour has found that freelancers overwhelmingly see remote working as positive, with nine out of ten (87%) working remotely at some point in the past year.
The self-employed workers polled said there are many advantages to remote working; one in five people said they had not experienced any disadvantages of being self-employed. When asked to select the three key benefits of working remotely, the findings showed that:
55% said it gave them greater flexibility;
43% said it saved them time;
41% said it improved their work-life balance;
34% said it made them more productive.
Hate balancing your books?
Save time and hassle with a bank account from Countingup. It lets you automate tedious financial admin, so that you can focus on running your business.
However, the report also found that remote working can pose challenges for the self-employed. When asked to name the three top disadvantages, 27% cited difficulties communicating with clients, 27% mentioned difficulties getting regular feedback, 26% cited loneliness, 19% talked of being disconnected and 26% said they didn't feel part of the team.
The report has recommended three key changes to support freelancers:
Roll out superfast broadband across the UK: 78% said reliable broadband was the most important requirement for remote working. The report says the government should ensure that all parts of the UK have access to super-fast broadband;
Promote co-working spaces: 76% of people said they had not used a co-working space. Past research, however, has shown that they are one of the most effective ways of combatting isolation and loneliness. The report says the government should explore ways to incentivise the creation of new co-working spaces.
Promote more client support: The government should explore ways to make sure remote workers have access to the networks and communications channels they need to work effectively off-site.
"This research shows what an important advantage remote working is for the self-employed, improving everything from flexibility to productivity," said Chloe Jepps, IPSE's deputy head of research.
"Government should strive to ensure this remains a positive way of working for everyone - not only by promoting co-working spaces across the country, but also by guaranteeing reliable broadband and making sure clients understand the needs of their self-employed remote workers."
Xenios Thrasyvoulou, founder and ceo of People Per Hour, said : "It is really encouraging to see how remote working is being embraced by the self-employed and the businesses who hire them. Businesses who are open to working with remote workers [get] access to a wider pool of the best talent. It is now important for government to help with the infrastructure needed to make this way of work sustainable."
Written by Rachel Miller.