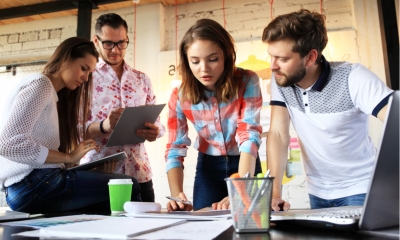 New research conducted for Pride month has found that almost two-thirds of LGBT+ employees have been made to feel uncomfortable at work because of their sexuality or gender identity.
The YouGov survey, commissioned by LinkedIn in partnership with UK Black Pride, polled 4,000 UK workers who identified as straight, gay, bisexual or other.
It found that 21% of LGBT+ employees have experienced verbal abuse at work and 61% say they have been made to feel uncomfortable by colleagues because of their sexuality or gender identity. The findings also show that transgender employees face a 14% income gap compared to other employees, equating to a shortfall of £5,340.
Overall, two-thirds (65%) of workers believe that their organisation is doing enough to support LGBT+ employees. However, a significant number of those polled said their organisation needs to do more, including 44% of transgender employees, 31% of gay and lesbian workers and 29% of bisexual workers. Only 12% of heterosexual staff said the same.
Other key findings include:
57% of those polled want to see greater transparency around employers' stances on diversity and inclusion;
55% want more supportive environments for coming out at work;
44% said they want to see more inspirational people within the workplace sharing their own experiences;
37% want more LGBT+ events and groups at work.
Currently, 70% of LGBT+ professionals say they have no senior LGBT+ people at work to look up to, especially in manufacturing (82%) and construction (80%). In fact, 28% of those polled who are not open about their sexuality at work said it's because they worry they'll be judged by co-workers; 17% said it's because there are no openly LGBT+ people in their workplace.
Joshua Graff, UK country manager at LinkedIn, said: "While a significant number of UK workers feel that their employer is supportive and inclusive of LGBT+ colleagues, our research shows there is still a long way to go. It is important that businesses build on the steps that many have already taken to create more inclusive environments - places where people can bring their true authentic selves to work."
Suki Sandhu, ceo and founder of diversity and inclusion organisation INvolve, said: "Research like this is incredibly important in reminding organisations that inclusion should be at the top of their agenda. Although we have seen progress in the workplace for LGBT+ people, it is clear that there are still substantial issues that can make it difficult for individuals to thrive professionally as their authentic selves. LGBT+ people are at all levels of a business, whether they're out or not, so it's crucial to have inclusive environments. It's not only morally right but it also strengthens the bottom line."
Written by Rachel Miller.