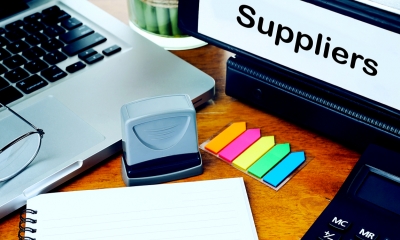 Selecting the right suppliers makes a major difference to the cost and quality of your firm's products and services, especially when your company is expanding. Getting the best value for money involves achieving the right balance between cost and factors such as quality, reliability and service.
You need to be clear about what you are looking for and what your objectives are in any negotiation. The best deals leave both sides happy as part of building a successful working relationship.
1. Your supplier management plan
Decide which products and services you need
Spend most time sourcing the most important supplies - those which make a major difference to the quality of your products and services, as well as the supplies which represent significant costs.
You may prefer suppliers that can offer a package that includes several products and associated services. For example, you might want a computer supplier that provides hardware, software and maintenance.
Decide whether you are looking simply to make a one-off purchase or whether you want to develop a long-term relationship with a supplier.
Consider what alternatives suppliers might be able to offer
Leasing or renting - either using finance provided by the supplier or by a financial institution - might suit you better than an outright purchase.
You might want to source processed goods rather than raw materials or pre-assembled products rather than components.
You might choose to outsource a non-core activity instead. For example, rather than finding a supplier for your computer hardware, you might look for an IT company that can manage, maintain and upgrade your IT system.
Review the implications of your overall business strategy
For example:
if you are looking to develop and launch new products continuously ahead of the competition, you will need suppliers that can work with you to innovate
if your strategy relies on customer retention, consistent quality will be important
if you are going to provide a commodity product in a mature industry, cost control might be key
Consider the impact of regulations
For example, whether the supplier needs to fit with your waste reduction and recycling targets.
Assess the business risks of your approach
If you outsource an activity, this is likely to mean that you fail to develop in-house skills. You might want a contingency plan in case you need to bring that activity back in house in future.
Decide who will be responsible for supplier selection and management
As you take on more staff you may want to make someone responsible for researching, selecting and negotiating with suppliers.
Centralised purchasing can improve efficiency and control, but it can be inflexible.
As your business develops further, you may want to set up cross-departmental teams to make important purchasing decisions. The team should include all the skills needed to choose and manage a supplier.
For example, you might need a technical expert to help specify your requirements, a production manager who can see how supplies fit into your processes, and individuals with financial and marketing expertise.
Further down the line you may want to consider hiring a specialist procurement company for high-value supplies and complex negotiations.
Get affordable business legal advice from LawBite. Access a comprehensive range of business legal services – whether you need advice on forming your business, employment law or intellectual property. If you would like to discuss any business legal issues, book a free, 15-minute call today.
2. Supply priorities
Remember that price is not the only consideration
A more expensive supplier who meets your other priorities, such as product quality and responsive service, could represent better value for money.
For some products and services, total lifetime cost is more important than the initial purchase price. For example, the ongoing maintenance and support required by an IT system is likely to far outstrip the initial purchase price.
Flexible payment terms, such as extended credit, are important if you face cash flow constraints.
A supplier who can offer a long-term fixed price will help your planning.
Clarify what your delivery requirements are
You may want flexibility. For example, low minimum orders and immediate delivery.
Suppliers that offer stockholding services and just-in-time delivery reduce your own inventory costs and the risk of ending up with obsolescent stock.
Think how important reliability is
Assess what impact late delivery or poor quality would have on your operations and on your customers.
Do you want the supplier to have the capacity and flexibility to cope with an increase in demand at short notice or a change in your requirements in the future?
Look for a supplier who will make administration easy and efficient
If you need small quantities of several supplies, it may be easier to use a supplier that can provide the full range.
Look for good communication skills and efficient order-taking and invoice processing.
Electronic purchasing - for example, through a supplier's website or using an integrated e-procurement system - can reduce costs.
Consider how important a long-term relationship is
A good supplier can provide you with useful intelligence on market trends, technical developments and new ways of working.
Bear in mind how your choice of supplier could affect your reputation
The reputation of a supplier - for example, for their approach towards the environment and their workforce - can reflect on you.
Using local suppliers can be part of a strategy to involve your business in the community. It can be particularly useful if you are looking to develop a strong customer base in your area.
3. Identify potential suppliers
Wherever possible, look for recommendations
Employees, your peers at similar businesses, networking contacts and professional advisers can all provide ideas.
Your trade association, local chamber of commerce and other business support organisations may also be able to suggest suppliers.
Ask for recommendations that take into account your needs. A supplier that already works with similar businesses in your industry may be the best choice - though this may not give you a competitive advantage.
Look through the trade press and directories for names of suppliers
Visit exhibitions and trade shows
Check with your trade association or search online.
Investigate sourcing from overseas
Some overseas suppliers may exhibit at trade shows in the UK. Your trade association may also be able to suggest suitable businesses abroad.
The Department for International Trade (DIT) holds a wide range of events and networking opportunities where you can meet overseas suppliers by region, market or sector.
Search online
Most companies have an online presence, so searching for the items you require should reveal a number of potential suppliers.
Price comparison sites can help you identify the cheapest supplier - especially for electrical items, consumer goods and utilities. This can be especially helpful if price is an important factor in your buying decision.
4. Draw up a shortlist
Establish your pre-selection criteria for shortlisting suppliers
Review the key criteria the supplier must meet - from price, product suitability and quality to service, availability and payment terms. Rank them in order of importance.
Aim for a quick and inexpensive process. For small, immediate purchases of simple supplies such as stationery you may simply ask the suppliers you have identified to quote for the job.
Aim for a maximum of five suppliers on the shortlist
If further supplier assessment will be complex and expensive, you may want a more in-depth pre-qualification process so that you can choose a single preferred bidder to take forward. For example, if you will need to work with the potential supplier to develop an outsourcing agreement.
Decide how many suppliers you want
A single supplier gives you economies of scale, reduced administration and a stronger negotiating position. It can be easier to build a long-term relationship, but you may become over-dependent on that supplier.
Using multiple suppliers promotes competition.
Using a single lead supplier - but keeping one or more 'back-up' suppliers in place - can provide the best of both worlds.
5. Choose a supplier
Get quotes from your shortlist
When asking for quotes, send a specification listing key requirements, such as quality, technical features and delivery schedules.
For services and complex products, you may provide a functional specification instead. For example, saying what the product must be able to do or what your key service requirements are.
Where appropriate, you may want to ask for a fixed price for a set period of, say, a few months. Check whether you would receive discounts if you entered into a long-term contract.
Compare the different suppliers
Look at your key criteria and decide which supplier fits them best.
Avoid making decisions based on price alone.
Audit your preferred supplier to confirm that they meet your requirements
Look for ways of establishing the supplier's reliability. For example:
using a credit check to assess financial soundness
confirming that the supplier has formal quality-assurance systems (perhaps through standards certification)
taking up references from other customers
visiting their premises to assess their working processes and quality of management
6. Negotiate the deal
Review your negotiating position
Make sure you are clear about which aspects of your specification are essential and which provide room for negotiation.
Strengthen your negotiating position by trying to find alternatives. For example, other suppliers.
At the start of negotiations with an existing supplier, confirm current ordering quantities and pricing. It may be that the market has changed since these were agreed.
Try to find out the supplier's position
Aim to identify their priorities. For example, disposing of old stock, filling spare production capacity or generating cash flow.
Try to establish how important your custom is to them.
Identify concessions that will cost you little but that the supplier will value. For example, if you have strong cash flow, you could offer prompt payment.
Set out the key points to be negotiated
During the negotiation, confirm each key point that you agree.
For major negotiations, keep a written record of key points as you agree them. Consider signing 'heads of agreement' setting out the main terms before negotiating final details.
Try to leave final discussions on price until the end of the negotiation - giving the supplier time to find ways of making the deal more competitive.
Take a firm but fair approach to negotiation
Avoid undermining your own position by making concessions from the start. Ask the supplier to make a concession for every concession you make.
Approach the negotiation in a positive frame of mind. Use positive language and body language.
Be aware of tactics they may use, such as creating artificial deadlines.
Aim for an outcome that is favourable to both parties. Squeezing the supplier too hard will make your business less valuable to them, meaning they may look for opportunities to cut corners.
7. Agree the contract
Decide what type of agreement you want
You might want a specific contract for a one-off purchase or an agreement to cover all purchases from that supplier for the next year.
If you are negotiating a continuing supply of a product or service, build flexibility into the agreement.
Make sure that you have agreed all the key issues
For example, price, delivery, after-sales service and payment terms.
Ensure that product or service quality is clearly specified. If you are buying services, confirm which individuals will provide the service.
Confirm whose terms and conditions of trade will apply. If you want your terms and conditions to apply, ensure that the supplier has seen and agreed them before the contract is signed.
The maximum payment period that can be set is 60 days from date of invoice or 30 days where there is no agreement.
Put everything in writing. Even though this is not generally a legal requirement for a contract, it helps to avoid confusion and provides evidence if you have a dispute later. Ask the supplier to confirm any promises they have made but which are not yet documented.
If purchasing from an overseas supplier, make sure you agree which country's laws will apply to your contract. Agree who will be responsible for shipping and customs clearance procedures.
Try to anticipate problems and plan solutions
Agree practical solutions for what to do if deliveries are incomplete or goods are faulty.
Agree a Service Level Agreement (SLA) setting out performance standards as a condition of the contract. Set out what penalties will apply if the supplier fails to meet them - by missing critical delivery dates, for example.
Agree how any service or long-term product supply agreement can be terminated and how disagreements should be resolved.
Consider taking legal advice for important or complex contracts
There may be particular legal issues you need to understand. For example, if you agree a contract for an individual to act as your agent, they will usually be entitled to compensation when you terminate the agreement.
8. Build a relationship
Actively manage your relationship with the supplier
Communicate regularly. Talk through and resolve problems pro-actively.
Keep them informed of your plans and how they may affect your needs.
Ask for suggestions. They may be aware of new products or technologies that would suit you or have ideas on how to improve the relationship.
Measure supplier performance against your objectives and SLA
Consider using a formal scoring system covering each of your priorities: product quality, on-time delivery and so on.
Vendor-rating software can help you assess a supplier's performance.
Even if you are satisfied with your supplier, periodically test the market
Identify other potential suppliers and what they offer.
Investigate how the market has changed and whether your agreement needs renegotiation. For example, changing market prices may mean that you are paying too high a price, while new innovations may mean you are buying inappropriate or unnecessary products or services.