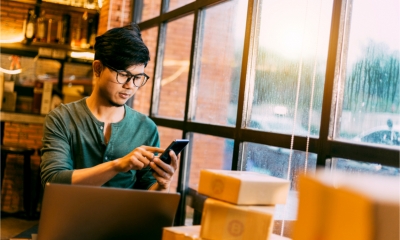 Seven FAQs people ask about trading online
1. What are the legal differences between selling online and traditional sales?
The basic common laws of contract formation - offer, acceptance, and so on - apply to online sales in the same way as for any other sales.
Online sales to individuals are covered by the Consumer Contracts (Information, Cancellation and Additional Charges) Regulations 2013 (which cover any form of distance selling, for example, sales made over the telephone). These require you to send written confirmation of any order to the customer (by mail or email) containing the necessary information (your name, description of the goods, and so on) and informing the consumer of their right to cancel the order.
The Consumer Contracts Regulations do not cover sales to other businesses, however the E-Commerce Regulations 2002 govern business-to-business sales. These regulations require you to provide the same information, but do not include an automatic right for business customers to cancel any contracts.
If you are selling internationally, it may not be clear where the contract and transaction occur. In some countries, local laws will apply even if your terms and conditions specifically state that the contract is governed by English law.
If you have a presence in a foreign country (eg an office there) transactions may also be subject to local regulation and taxation. You may also run into problems when you do not know who your customer is. For example, selling to minors may be illegal (depending on the country and what you are selling), and contracts with minors are usually unenforceable.
2. What information do I need to provide to online customers?
When selling online to individual consumers you must provide full details of the offer before they purchase, and written confirmation (which can be sent by email) of the details before or with delivery (or during the supply of any service). Broadly speaking, the required information includes your details, a description of the goods (or services), delivery and payment arrangements, and information about the right to cancel. You also need to include information on the duration of any contract, the total cost including any deposits that may be payable and the customer's responsibility for the cost of any returns.
Although these consumer-orientated regulations do not cover sales to other businesses, the E-Commerce Regulations 2002 govern business-to-business sales. These regulations require you to provide the same information, but do not include an automatic right for business customers to cancel any contracts.
3. Can customers cancel online orders?
Individual consumers have the right to cancel purchases within a specified time under. This is 14 calendar days from the delivery date (for products) or from the contract date (for services) - a model cancellation form will need to be provided to customers. If you fail to provide the right information, the cancellation period is automatically extended to one year. Refunds must also be given within 14 calendar days.
There are some exceptions where consumers do not have an automatic right to cancel unless you agree otherwise, for example, sales of customised or perishable goods.
Under the Consumer Contracts Regulations 2013, consumers that purchase digital content (eg films, music, computer games, apps etc) are entitled to change their mind and receive a full refund unless they have already started to download the content (and they have been notified and have acknowledged that the download has started).
Corporate customers have no special right to cancel, unless agreed in the contract.
4. How can I ensure my terms and conditions apply to ecommerce transactions?
You need the customer to agree to your terms and conditions before you accept an order (this is known as incorporation). Simply hiding your terms and conditions somewhere on your website is not a good solution; instead, make sure that the customer has full notice of the terms and explicitly agrees (for example, by ticking a box to confirm that they have read and agreed to them).
5. When does a contract come into force when using the internet and email?
In the usual way - an offer is made and accepted, and whatever has been agreed previously forms part of the contractual agreement.
Common pitfalls include:
carelessly sending email messages that have subsequent contractual implications
publishing information on your website that later forms part of contractual agreements without your wishing it to do so
poor website design allowing contractual obligations to be created without you wishing them to, or contracts that are not covered by the terms you would like
6. What happens if my website contains incorrect information (eg prices) or offers goods which are out of stock?
If your website is designed so that it makes an offer to the customer and the customer accepts it, you may be contractually committed to supply at the advertised price. It has been known, for example, for companies to find themselves selling goods for £2.99 instead of £299 after a typing error. Similarly, if you agree to sell goods that you cannot supply, you may be contractually liable to the customer.
A safer solution is to ensure that your website only constitutes an "invitation to treat" (ie an invitation for the customer to consider buying from you and to place their own "offer"). If your website contains incorrect information, you will then have the opportunity not to accept the customer's offer to buy.
7. What problems are possible when purchasing online?
Practical and legal problems can occur if you do not know who you are dealing with, what conditions and regulations apply, and which jurisdiction will cover any legal disputes. For small purchases, payment by personal credit card provides a reasonable degree of practical protection. For larger transactions, invest a little time in researching your supplier as you would for any other method of purchasing and make sure that you have clear written records of everything you agree. Transactions with foreign suppliers may need the most care as problems can be particularly difficult and expensive to resolve.