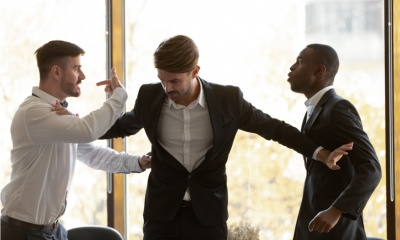 Most start-up founders have to tackle many roles in the business. But as your team grows, the need for dedicated HR expertise can quickly creep up on you. So, what are the signs that you need HR help? Rachel Miller finds out
The list of tasks that an HR manager can take off your hands is surprisingly long. From hiring and firing to grievances and appraisals, an HR manager can free up your time and allow you to concentrate on what you do best. HR is not just about employment law and admin - an effective HR person will contribute to the bottom line by managing employee development, boosting morale and raising productivity.
However, many business owners continue to struggle with HR-related responsibilities until the cracks start to show. Outsourcing can be the most effective and affordable way to bring in the necessary HR expertise. But what are the signs you need help?
Award-winning HR support for small businesses
Spreading yourself a bit thin? Peninsula?s team of experts can take care of those time-consuming HR issues, which means more peace of mind for you, and more time for you to concentrate on what you do best: running a successful business.
1. Your business is suffering from growing pains
Hiring staff is a time-consuming process and managing more employees creates its own set of demands on your time. As your tight-knit team expands, issues around performance, productivity and morale can emerge. This is the point at which you need to take a more formal approach to people management. An HR manager can help you deal with these growing pains by taking charge of hiring and staff development. Regular evaluations will help employees understand what?s expected of them and where the business is going.
2. You?ve hired the wrong person
Your latest recruit has not lived up to their promise; perhaps they haven?t been completely honest about their credentials or maybe there?s a personality clash within the team. Recruitment is not an exact science but there are many ways to ensure you don?t hire in haste and regret it later. An HR professional can help you write an accurate job description, target the best candidates, conduct effective interviews, check qualifications, follow up references and manage onboarding. You make the final hiring decisions, but you?ll be guided by an HR expert.
3. You?re out of your depth on employment law
Sick pay, parental leave, flexible working rights, statutory holidays, workplace pensions, health and safety - the list of employment rights and regulations you need to know about can seem endless. If you haven?t taken professional advice, do you even know if you?re compliant? And if this isn?t your area, it will be very time-consuming trying to get up to speed. This is where it makes financial sense for you to consult an expert, not least to avoid any legal liabilities.
4. An employee is not pulling their weight
Managing people is easy when everything?s going smoothly. But when someone is not doing their job properly, it can affect the whole team. Managing people is a key skill that some business owners struggle with. If you?re reluctant to tackle an employee about their performance, it?s time to get expert help. An HR person can be a useful intermediary, setting boundaries and targets for the employee and conducting a disciplinary process should it become necessary.
5. You don?t know how much to pay people
If you?ve been agreeing salaries on the hoof, you may find that you?re paying one person more than another for doing a similar job. People talk, so if you want to avoid conflict it?s time to review your payment structure. A dedicated HR manager can help you do this.
6. You?re short on policies and paperwork
Offer letters, employment contracts, sickness policies and staff handbooks are all key documents that any business needs to have and to keep up to date. You?ll also need systems in place to log attendance and holiday requests. This kind of paperwork is best handled by an HR professional that knows UK employment law.
7. There?s a toxic atmosphere at work
Personality clashes and staff disputes come with the territory in business, even in relatively small teams. Business owners that ignore conflict will find that it only gets worse in the long term. An HR professional will be experienced at tackling sensitive issues and smoothing ruffled feathers. They will be able to support and guide employees to find a resolution that works for all. It?s also worth remembering that your staff may be more comfortable coming to an HR manager with a problem rather than bothering you.
8. Your business is losing its mojo
Most start-up founders set out with a clear vision of how they want to do business, usually based on their personal values. Over time and as the business grows, however, that vision may no longer be understood or shared by your team of people. An HR expert can help preserve your workplace culture - by hiring for attitude, conducting staff inductions, creating an employment handbook and providing training.