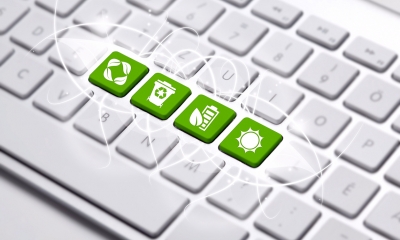 Every business can benefit from minimising its environmental impact. Complying with environmental laws and doing your bit to help the planet also delivers direct business benefits.
Reducing waste has an immediate effect on your bottom line. Customers and other business partners prefer to work with firms that are environmentally responsible. A reputation for taking the right approach can be a key competitive differentiator for you.
Get financial support and tax breaks
Involve and influence other stakeholders
1. Commit to eco-efficiency
Make a top-level commitment to improving your environmental performance
Without a real commitment, you are unlikely to see many of the benefits. A superficial approach is unlikely to impress customers, employees or other key people involved with your business.
Nominate one senior person to be your environmental champion.
Develop an environmental strategy
Make sure that your approach to the environment ties in with your overall business strategy and values.
Include environmental impact in the criteria you use when considering new investments, partners or activities.
Establish key performance indicators (KPIs) that will allow you to monitor your environmental performance and set goals for improvements.
Identify the main opportunities to benefit from improved eco-efficiency
Making sure that you are meeting your legal obligations provides a starting point. Getting on top of these requirements reduces the cost of compliance and minimises the likelihood (and costs) of any enforcement being taken against you.
Cutting unnecessary waste, water and energy use can all offer significant financial savings and environmental benefits.
Check whether you qualify for any environmental tax breaks or financial support, such as grants.
Identify the different groups of people that matter to your business
Assess how your environmental performance affects them.
Meeting environmental expectations can help you attract customers.
Other key stakeholders may include investors and lenders, employees, suppliers, regulators and the local community.
Develop an action plan and follow through
As a minimum, make sure you understand your legal obligations.
Understanding the potential benefits helps you decide what activities to prioritise and how much time and money to commit.
2. Reduce costs
Identify and prioritise your major environment-related costs
Most businesses have significant energy costs for heating, lighting and cooling their premises.
For manufacturing businesses, key costs tend to include the raw materials, water and energy used in production processes.
Disposal costs for waste (and trade effluent) can be substantial, particularly with the impact of landfill tax.
Costs and environmental impacts can be particularly high if you produce hazardous waste or use solvents and volatile organic compounds.
Identify simple opportunities to reduce waste
Turning off equipment, heating and lighting when they aren't needed is an easy way to reduce energy consumption.
Basic procedures - such as encouraging employees to turn off lights and computers when leaving a room - can be very effective. Make sure you involve employees with proper training and motivation.
Make the most of simple automation options: for example, timer controls to switch off equipment automatically when not being used. Remember equipment often uses as much energy in stand-by mode as when it is in use.
Ensure that machinery is properly maintained and used.
Consider investing in better systems and technologies
Take energy efficiency into account when buying new equipment. Potential energy savings may justify the immediate replacement of inefficient old equipment.
Simple energy-saving technologies such as draught-proofing can quickly repay the initial investment required.
Similar benefits can be realised through better use of water and water-saving technologies. For example, collecting and using rain water to flush toilets.
Consider the orientation of your building and opportunities to use planting to help regulate the building's temperature.
Arrange your workspace to make the best use of natural light.
Look for opportunities to redesign processes to reduce the use of raw materials, water and energy. See whether you can recover and reuse any by-products.
Get the right help
The Carbon Trust offers free publications and advice to help you identify and reduce wasted energy.
WRAP offers advice on improving resource efficiency, reducing waste throughout your business.
Your trade association may be able to provide guidance on industry best practice.
3. Get financial support and tax breaks
Reassure investors and lenders
Increasing numbers of investors and lenders prefer to finance businesses that meet their ethical and environmental criteria.
Financiers prefer businesses that can demonstrate strong environmental controls - reducing the risk that environmental problems will increase your costs or damage your reputation.
Some investors believe environmentally responsible businesses are likely to perform better financially.
Identify any special financing or grants you might qualify for
You may qualify for soft loans or grants to help with environment-related projects.
Specialist sources of financing are available for businesses developing environmentally sustainable technologies.
Make the most of environmental tax breaks
Low-emission company cars benefit from more favourable tax treatment for both employees and the business. Zero-emissions electric vehicles can also be registered for exemption from the London congestion charge.
4. Attract customers
Identify what your customers' environmental or ethical concerns are
Many consumers prefer to buy environmentally-friendly or ethical products from responsible suppliers such as those which do not include palm oil or which only use sustainably-sourced palm oil. Some customers may be prepared to pay a premium for this.
Increasing numbers of business and public-sector customers assess suppliers' environmental performance when tendering for contracts.
Asking clients about their concerns and involving them in your environmental plans can be a good way of demonstrating your commitment, particularly when you work with a small number of key customers.
Identify ways to reduce the environmental impact of your products and services
Take into account the environmental impact of your suppliers. See Involve and influence other stakeholders.
Consider the environmental impact of the use and eventual disposal of your products by your customers. For example, a longer-lasting product might be less environmentally damaging - and give you a competitive edge over rivals.
Minimise packaging and unnecessary transportation throughout your supply chain.
Publicise your environmental credentials
Consider using appropriate labelling and advertising, particularly for consumer products. For example, producers of sustainably sourced timber can be inspected by the Forest Stewardship Council and use the FSC mark.
Energy-efficiency labelling is now compulsory for many household appliances.
Anticipate changing regulations and customer requirements
Advance knowledge of impending changes gives you more time to adapt your products and maintain your competitive edge.
5. Involve employees
Ask employees for suggestions on reducing environmental impact and costs
Ask for ideas covering the business as a whole, as well as their own individual work activities. Employees may know how good or bad your reputation is and what changes customers or other stakeholders would like to see.
Encourage employees to follow the right procedures
Employee behaviour can significantly reduce waste - from simple steps such as cutting heat loss by closing doors to operating machinery and processes in the most efficient ways.
Encourage employees to report environmental problems rather than taking short cuts. For example, it's easy to reduce unnecessary heating by adjusting it centrally if an employee tells you the building is too hot.
Consider monitoring and rewarding effective environmental performance. Possibilities include bonuses for achieving targets for individuals, teams or the business as a whole, or passing on a share of savings resulting from suggestions for environmental improvements.
6. Involve and influence other stakeholders
Work with regulators
Environmental regulators prefer to work with businesses that take a positive approach to fulfilling their environmental responsibilities. Businesses that can demonstrate best practice may benefit from lighter-touch regulation.
A pro-active approach to compliance can be much more cost-effective than waiting to respond to complaints or allowing problems to emerge.
Environmental regulators are a key source of guidance and advice.
The main environmental regulators are the Environment Agency (in England and Wales), the Scottish Environment Protection Agency and the Department of Agriculture, Environment and Rural Affairs (in Northern Ireland).
Local authorities are responsible for some environmental regulation, particularly for lower risk businesses such as offices and shops.
Work with the local community
A good local reputation makes it easier to attract customers and recruit employees, and also minimises the risk of problems such as objections to plans for new developments.
The immediate neighbours of any business premises are most likely to be affected by any environmental nuisance you cause.
Local activists or consumer groups may be particularly important to helping your business publicise your green reputation.
Work with suppliers
Suppliers can be a useful source of advice on new technologies and ways to reduce environmental impact and costs.
Suppliers' own environmental performance may be a significant contributor to the total environmental impact of your business.
Some suppliers prefer to work with environmentally-sound customers. In particular, it may be possible to reduce insurance costs if you can show that you have reduced risks through good environmental controls.
7. Build your reputation
Promote your green credentials
Assessing your environmental impact is increasingly recognised as an important part of understanding the outlook for your business.
Larger businesses now routinely include environmental information as part of their annual reports. In some cases, this is legally required (eg for quoted companies).
Look for opportunities to create positive publicity (eg in the local press, trade journals or on your website).
Consider implementing an environmental management system
An environmental management system adds credibility to your claims to be environmentally friendly.
Some customers, particularly larger companies and public sector organisations, require suppliers to meet a recognised environmental management standard, such as ISO 14001.
Consider developing corporate social responsibility (CSR) policies
Taking a responsible attitude to the way your business affects society at large includes treating employees, customers and suppliers fairly as well as working with the local community.
Effective CSR further improves the reputation of your business and all the benefits that brings.
Involving employees in working on CSR projects, such as supporting local charities, can be an effective way of improving motivation and commitment at work.