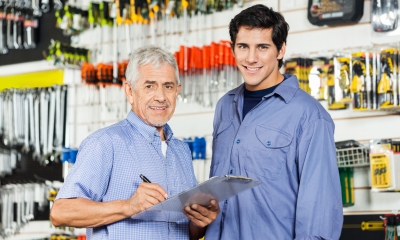 Succession planning is essential to ensure that your business continues to thrive when you step aside. A planned management succession minimises disruption and ensures that you have the right people in place, with the right skills, to take the business forward.
Succession planning - identifying needs
It's easy to think of management succession as an attempt to identify someone to fill your shoes. But this can be the wrong approach to succession planning, particularly in growing businesses with changing leadership needs.
Succession planning should be linked in to your business strategy. For example, if your business will be expanding overseas, or growing by acquisition, these will be key factors in identifying and developing a suitable successor.
More broadly, management succession gives you an opportunity to think about the overall management structure and culture of your business. Businesses that have been built up by a dominant owner-manager may need to move towards a more devolved management style, with greater delegation and a stronger management team all round.
As part of succession planning you should identify any key values and business priorities you want the business to retain. Even after the management succession, you are likely to have a continuing emotional - and perhaps financial - attachment to the business.
Succession planning and management development
Effective succession planning starts years in advance, giving you time to develop a successor with the right skills and experience.
As part of the management succession process, you may want to consider giving potential successors exposure to different experiences - for example, working in different areas of the business, becoming a non-executive director at another company or being seconded to a different organisation.
As the time of the management succession approaches, you should take steps to ensure that your successor develops personal relationships with key staff. customers, suppliers and other contacts that you have built up over the years.
Succession planning - broader issues
Succession planning typically focuses on identifying and developing an internal successor. This approach to management succession helps retain a strong company culture and motivate employees who see the opportunity to progress. But it can also risk leaving the business inward-looking.
As part of your succession planning process, it's worth considering whether an external appointment might make sense - and if so how to plan for it. You should also decide whether to identify and develop a single successor or several potential candidates. A management succession competition avoids the risk of relying on a single chosen successor, but can lead to unhealthy rivalries and ultimately disappointment for the unsuccessful candidates.
You'll need to think carefully about the handover of control during the succession. While it may help to work together while your successor is shown the ropes, you need to commit to stepping aside sooner rather than later. Work towards a planned succession deadline and think carefully about any continuing consultancy role you might retain ? will you be adding real value or just interfering?
At the same time as planning the management succession, you should identify any other areas of the business that need tidying up before you go. Informal arrangements that worked while you are in charge may no longer be suitable. For example, you may need to clarify which assets belong to the business or to you personally, to put in place more formal corporate governance arrangements or to formalise agreements with suppliers, customers and staff.