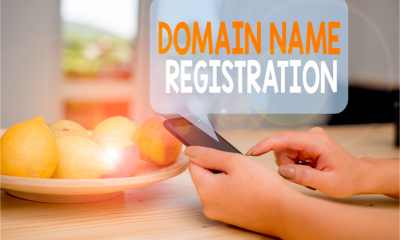 Are you looking for a domain name but find yourself struggling to find one? Or do you need to register your domain name but don't know how? No matter your struggle, the following guide will walk you through the process of registering your domain name in five simple steps.
But first, let's take a look at what a domain name is and answer a few other frequently asked questions people have when they want to register a domain.
What you will learn in this blog:
What is a domain name?
Why should you care about registering a domain name?
What is a domain name?
A domain name is simply an online address through which your audience can find your website online. You have probably visited hundreds of websites and online stores, and each of them will have a unique domain name.
Your domain name is unique to your business and website. For example, if you choose a domain name (let's say www.myabcdcompany.com), it will be exclusive to your business meaning no other business can use the exact same domain name. This prevents anyone else from using it in the future and also increases the value of your online business.
Businesses use custom domain names in order to stand out in their market. Building a website requires planning and strategizing but choosing a domain name is the first step towards building an online presence.
Why should you care about registering a domain name?
Domain names are the online address of your website. If you want to be found online, it is essential to register your domain name and set up a website. Registering your domain name minimising the risk of other businesses passing themselves off as you online and helps you protect your brand reputation.
There are several other benefits to registering a domain name for your company's website. The most obvious advantage of having a domain name is that it commands trust with potential customers. When they see that your business has its own website, they will be more inclined to do business with you.
Domain names tell your potential customers that you're serious about your business and will help you reach more customers. With a customized, memorable domain name, people will remember who you are and be more likely to visit your site.
Another benefit of registering a domain name is improved SEO. While your domain name isn't a direct ranking factor, a good domain name can positively affect your site's SEO (search engine optimisation).
Also see: Exposing the true benefits of domain names
Five steps to registering a domain name for your business
1. Choose a domain name
If you want to control and protect your online identity from identity theft and copycat sites, choosing a domain name is your first step. Search engines determine a website's importance and credibility by its market share. Registering your domain name correctly with the right extension (.com, .net, etc.) is just as important as the search terms that people type into their browser to get into your site.
Whether you go for a branded domain name or one that includes a keyword, choosing a unique and memorable domain name is always the right way to go.
If you are new to the world of domain names, and need more information about where to start, here are some tips:
Why use keywords in your domain name?
Many people browse the internet by searching using keywords. Including a keyword in your domain name can increase your rank in search engine results pages (SERPs) and improve your visibility on search engines such as Google.
When you shouldn't use keywords in your domain name
A domain name is not just the name of your site; it is also an address. Google and Bing will find content on other domains that use the same keywords your domain. A dedicated domain (ideally using your company name) will rank better in most search engines. If you have a strong brand name or want to build a recognisable brand name, you should use that in your domain name.
Tip: The more memorable your domain name is (to both human visitors and search engines), the easier it is to reach your end goal of getting more visits!
Also see: Domain Name – SEO Best practices [2021]
2. Choose your domain registrar
Domain registrars are companies through which you can purchase a domain name. The simplest option is to go for a platform that offers both a web hosting service and domain registration, so you only need one place to manage everything. All things considered, choosing such a platform is also likely to be more affordable - typically they offer a free domain for up to 12 months!
3. Check the availability of your domain name
To find out whether your preferred domain name is available, type it into the search box of your chosen registrar. You will see a list of possible domains, as well as the availability status of each one. If your preferred domain is unavailable, you can have a look at the results that come up to get some ideas for alternatives that are available.
4. Choose the extension to go with your domain name
A .com domain name is usually the number one choice for many domain name holders. Having a .com domain name in your portfolio can pay off big time as it gives the impression of being an established and reputable company. This is largely because .com domains are the most familiar and user-friendly ones out there, and most businesses can easily recognize them.

Tip: There are a range of domain name extension options out there. If your first choice isn't available as a .com domain, you might want to consider one of the others that are available. For example, if you are based in London a .London domain might be right up your street.
5. Register your domain
The final step is to register your domain. When you register your domain name, you're buying the right to use it for a period of time. They are sold on a first come, first served basis. Registering your domain name - especially if you are going to use your company or brand name - can be a key step in protecting your intellectually property especially if you have invested heavily in building your brand identity.
Decide how long you would like to register your domain and then click 'continue' or 'register'. The longer you register for, the lower your renewal fee will be; so choose a period of time that gives you some flexibility without forcing you to buy a longer registration than is necessary.
You will have to renew your registration periodically in order to keep using the domain name.
Tip: Remember, it's also possible for people to challenge your right to use the domain name or for them to deliberately register a name similar to yours in order to mislead customers or to cause you reputational damage. You should remain vigilant for such 'copycats' and take steps to protect your reputation online.
Copyright 2021. Article by Bilal Shah.