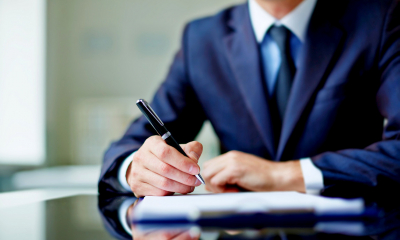 When you decide to start a business, it usually begins with a good idea and, sometimes, some investment capital.
An equally important part of the equation is the advice and support of a solicitor. Having the support of a solicitor from the very start of your business journey is also a good idea. A solicitor can solve a lot of problems, help the start up journey go much more smoothly and can prevent you falling into common start up traps.
Read on to find out just what a solicitor can do for your business because it could help you become much more successful.
Contracts
In the majority of businesses, there will be contracts of some description to be drawn up. These might be related to employees, clients, property, vehicles, or almost anything else you need in business. Although it is possible to find contract templates online, complete them and have both parties sign it, it's not the best way to handle this all-important issue.
Contracts are important because they protect you and your business. They detail what is expected of each party signing the contract and the steps that will be taken in the event of a dispute. If the contract is skewed unfavourably in one direction, attempts to override someone's statutory rights, doesn't make sense, or contains a mistake, you could easily lose out financially.
This is why it's important to have your contracts drawn up by a trusted firm like Ellisons Solicitors who can do this on your behalf.
Licenses and permits
Most businesses can operate without licenses and permits. But some businesses will need a licence or permit in order to trade or sell controlled good. Much depends on the nature of your business, where you trade, how you operate and what your particular country or authority requires. Some businesses may need multiple permissions.
Work without the required permits, licenses or permissions is illegal and may even prove dangerous. You run the risk of losing your business, and if someone is hurt as a result of your activities, you may even have to serve a prison sentence.
Your solicitor can make sure you have the relevant permits and licenses in place. They can save you time and money and ensure you have got precisely what you need. They are the experts after all. Once these licenses are in place, you can get on with your work.
Your will
Did you know that when you run a business, you need a will? It's important to have a will even when you don't own a business owner. But when you have your own business, a will is essential. Your solicitor will be able to help you write your will, ensure that it is correct, that your wishes are carried out and minimise the risk of it being challenged.
As a business owner, you need a will because it will help ensure the business continues in the way you want it to. Without a will, the business could be sold or broken down into parts. Your business may end up in the hands of someone you wouldn't have chosen. Writing a will with the expert help of a solicitor will help ensure that none of this happens if you don't want it to.
Copyright 2021. Article made possible by site supporter Jeremy Bowler.