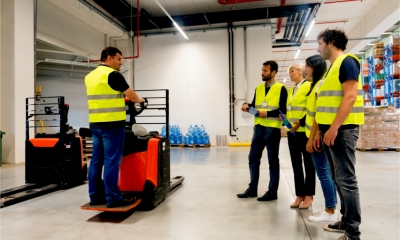 Training your staff is an important part of any business. The more you invest in your company in different ways, the more opportunities you are likely to be presented with at some point in the future. Giving your staff the opportunity to learn more, to gain more skills and qualifications is always going to benefit the business. But what are your legal obligations as a business when it comes to staff training?
Make sure employees know their rights
As a business, it's up to you to ensure your employees are aware of their rights as workers. Each staff member should know what rights they have and what they're meant to be given in the workplace.
You must issue a written statement of employment detailing certain terms and conditions on or before the first day of work and an employment contract will exist as soon as an offer of employment is accepted (even if it is only offered and accepted verbally). The written statement must detail certain information such as hours of work, their pay rates and frequency, any holiday that they're entitled to, sick pay conditions, etc.
You may also issue training manuals, employment policies and practices and deliver training so that employees understand their rights and obligations.
If your employees know their rights, you will find your business will run into fewer staff problems. If you're not providing the right information to your staff, then you're liable to be fined and your business could find itself in hot water.
Besides knowing their rights, your employees should know their limits to avoid further problems. You should lay some ground rules by implementing a compliance program that will meet your business needs.
The prospect of coming up with a compliance programme can be pretty daunting. If you don't know where to start, consider compliance training. It will equip you with the knowledge to create and upload company policies to prevent a breach of contract.
The benefits of managing a compliance program are many, ranging from reducing legal problems and enhancing public relations to fostering customers' trust and better employee management, engagement, and retention.
Your employees can easily jeopardise your company's policies. This can lead to a breach of contract, which might have an adverse impact on how you run and manage your business. You may want to avoid this by effectively monitoring their actions by enacting an effective compliance program and updating it if need be.
Health and safety training
When it comes to health and safety legislation, you want to make sure that your business and staff are complying with the rules that are in place. The health and safety regulations and training requirements that affect your business will depend on what your business does but could include food hygiene, safe use of hazardous materials, lone working, working at height and first aid.
For example, if you have a multi-floor office, you might need a number of trained first aiders in the building. If you run a business that serves food, you'll need to make sure your staff have all the relevant food hygiene certificates in place. Your staff should also be fully trained and aware of everything when it comes to health and safety. For example, the safe operation of equipment.
Failing to provide adequate health and safety training can lead to a costly accident or incident which is likely to cost you far more than the cost of sufficient training in the first place. You can find plenty of learning resources online or you can check this free eLearning content providers directory listing.
GDPR (General Data Protection Regulation)
GDPR was introduced in back in May 2018 and applies to businesses within the EU. It's your responsibility to ensure your employees and business handle your customers' and employees' personal data in the correct manner. Failing to adequately protect data that doesn't belong to the company can be costly and is something you don't want to slip up on.
Many businesses have failed to secure data properly in the past leading to expensive data leaks. A data leak can be costly to your business in both financial and reputational terms. It's worth giving GDPR training to staff members, so they all know how to handle customer and client data properly.
Training budgets
Many businesses allocate a budget for staff training, which can be handy but there's no legal obligation to provide your staff with training that is outside the realms of the training mentioned above. However, allocating a specific budget for training is something that can directly benefit your company's development and growth.
Failing to provide certain information and training can breach an employee's rights, can mean employees are not following safe working practises and can lead to expensive incidents or accidents. It's important your understand your legal obligations on staff training to ensure give your staff the necessary information on their rights and responsibilities and to minimise the risks to all parties.
Copyright 2020. Article was made possible by site supporter Jeremy Bowler