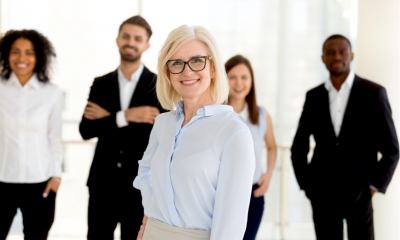 Image is everything in business, especially if you've opened a law firm. First impressions count, and if you make the wrong one it can be hard to claw some of that back. This first impression isn't necessarily made personally by you, though it can be. It's also made by your employees, website, social media profiles, advertisements, your business premises...the list goes on.
There are many different ways to make an impression. You have to ensure the one you make is the right one. This applies regardless of the size of firm you've opened or intend to open. You could be a small business, perhaps you've partnered up with another lawyer, maybe you're a sole trader or just freelancing off the back of a newly created website.
It doesn't matter what area of law you're specialising in. Focus on your image. Each practice goes about this differently. Creating the right impression can be pretty tough but here are some considerations that can help you get it right.
A professional veneer goes a long way
Professionalism in law is everything. You might not consider yourself a professional yet. Maybe you do and have been practising for years. Either way, giving off a professional veneer can bring in many more sales. People expect lawyers to convey a certain professionalism. It lends buyers confidence in you and your offering.
How do the market leaders in your field go about appearing professional? They are probably professional in every regard. This is what you need to try and emulate. Maybe you haven't clearly displayed your credentials on your website. Perhaps you need to list the qualifications attained by those at the practice on your professional profile or display them in your premises. Little details like this go a long way.
You might add chatbot software for website solutions to your website. It can give potential customers the opportunity to ask their legal questions which you can convert to sales. The software can help you appear accessible, professional, and helpful.
The importance of your storefront
Your storefront could be your physical premises or the landing page on your website. Either way, it needs to be inviting, to encourage them further into your site and your sales funnels. Are your physical premises smart, professional and welcoming? Does your website tell people about you and what you do? What are your specialisms and best-selling points?
If you're based on content, make sure your best content appears immediately. Don't clutter your website and distract site users from what really matters. In many cases, your website is your first chance to make a positive impression on potential customers, so don't waste the opportunity. The image you present here might stay in their mind for a long time.
Network relentlessly
Networking is important for all businesses. It can help you get clients, find great employees, and keep up to date with what's going on in your industry. You can bounce ideas off people who have been in the game their whole lives and listen to new and upcoming ideas from those fresh out of college. You'll get the inside track on developments key to your business. Maybe there are new grants available in your niche or new rules and regulations which will prohibit certain business activities.
Networking isn't easy...but applying yourself to it brings a myriad of opportunities. It's never been easier to network either with forum type sites like reddit or via social media platforms. In short, if you network well, more people will know about you. When you network, make sure your emails look professional and include your signature and company logo. Again, utilise the opportunity to create a professional impression.
Show clients you're up to date
No matter what line of business you're in, tech developments can make a huge difference to you and you and your customers. It can even change the way you do business. As a law firm, you should keep an eye out for new methods of communication and better ways of analysing and disseminating case law and statistics. AI may even be used to help in your research.
If you fail to adopt a new piece tech that your competitors implement, you could be left playing catch up further down the line. There may be new software just around the corner which makes the day job far easier. Technology is developing all the time. Being future forward and ensuring customers know you use the latest in technology shows you care. Remember, the better your tech, the better your firm and the service you offer to your clients.
Role model behaviour
Ensure you act in the way that you expect your employees to act. Set the tone for how employees should speak to your customers. This should extend to how you treat your staff. Show them that they're important too. Take care of yourself, make time for exercise, friends, and family and let them do the same thing. Your employees will shout about how your company is a great place to work. Word gets around. If people know you treat your staff well, then it does wonders for your image. Not only will you cultivate a good image, but your employees will work harder for you.
Visiting clients? Make sure you're at the top of your game
If you're visiting clients, you need to be at the top of your game. Put your best you forward. Make sure you're fully briefed and prepared and that you have all the information you need to hand. If you have to drive long distances, make sure you leave in plenty of time. You may need to schedule an overnight stay so you're not tired in the meeting. Asking people to repeat what they've said because you're finding it hard to concentrate doesn't create a good impression.
Being prepared and on top of your game makes everything a lot easier. Sure, you might not lose a sale because you've asked a customer to repeat themselves, but thorough preparation will make the process easier and will help you create the right impression.
Allow others to curate the image
You build your own image. However, others can contribute to the positive impression you make. Positive online reviews can be hugely influential. Although you can't control what people say about you, you can ask happy customers to leave a review. Encourage people to give you feedback at every touch point. You might offer incentives (certain services for free) to those leaving feedback. It will all help to raise your profile in the local community.
Naturally, there is the fear that you may end up with a bad review. You have to learn how to see this as a positive. Negative comments can help you improve your service and offering by learning where you could have done better. You take the feedback, cross reference it with other reviews you've had and look for the consistent points. It will give you got something to act on. Show people you're willing to change your business based on customer feedback. It shows you care and is a great way to cultivate that stellar image.
Don't take on too much
You can't present the best possible image of yourself if you're always too busy dealing with aspects of your business that you should delegate. Focus on what you do best. New businesses often fall into this trap. Taxes are a good example. Instead of paying a tax specialist to handle the accounts, many business owners do it themselves thinking that they will save a bit of cash. Stop and ask yourself what your time is worth. If doing the tax takes hours, what could have you done instead?
This is true for many areas of business. You might not have the time to focus on SEO, consult HR law or work out which software is the best for your particular needs. There are people who can do this for you. You can benefit from the numerous industry experts out there, so you don't have get your head around something totally new. Using the knowledge and services of an expert, means it will be finished to the highest of standards, thus improving your image. While this is happening, you're working with your law firm's clients to help them succeed.
Copyright 2021. Article made possible by site supporter Jeremy Bowler.