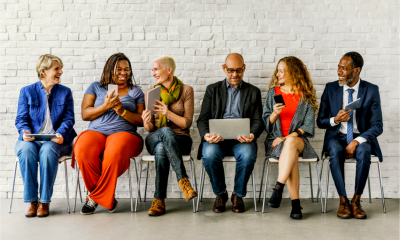 An estimated 14% of the UK's population is made up of people born outside of the country, equating to about 9.5 million people, according to figures released in 2019.
By the end of March 2020, an estimated 313,000 more people moved to the UK according to migration statistics.
For business owners, these figures are important as people applying for jobs within the UK won't all be British-born citizens. To avoid accusations of inequality and discrimination, business leaders across a range of industries should consider opening their doors to workers from all countries when looking to extend their workforce.
Of course, it's not completely straightforward. Employers must make sure the individuals they recruit have the legal right to work in the UK. They can face a hefty fine if they don't, especially when knowingly employing somebody without the legal right to work in the UK.
Employees need to provide evidence of their entitlement to work in the UK, such as the 'skilled worker' visa which shows they are eligible to gain employment in the country. Both they and their prospective employers can learn more by getting the appropriate legal advice from OISC qualified immigration lawyers.
Despite the red tape, business leaders should consider the benefits that migrant workers can bring to their companies. These include the following.
#1: Language and cultural support
For employers looking to work with clients overseas, they need employees with the ability to speak the language of the country in question. They also need people with knowledge of the cultural intricacies that could help them win new clients and customers. When it comes to hiring British-born employees, these skills aren't always guaranteed. This is why migrant workers can be vital when it comes to making those global business deals. They can reduce the risk of a cultural faux pas and they can help employers overcome many of the challenges that are faced when working with international clients.
#2: New perspectives
Migrant workers can provide information and advice to business leaders looking to target foreign demographics. They can also bring creative ideas into the workplace, perhaps by sharing industry trends and work methods that are common to their own countries. These new perspectives can help employers reshape and make improvements within their businesses. Employers can also stand out from their competitors with the fresh approaches they take to do business.
#3: Needed skills
There is a STEM skills shortage in the UK and according to one report, this costs employers £1.5billion a year in training costs. Struggling employers might be able to fill such skill gaps by outsourcing, but it might be cheaper in the long run to hire migrant workers. They can do this by employing people already living in the UK, or they could sponsor foreign workers looking to work in the country. With skills gaps filled, they will be able to run more efficient and productive businesses.
It would be remiss of any business leader to ignore the benefits of a migrant workforce, so they shouldn't let any Visa hurdles stand in their way. As the migrant population increases, now is the time to take the necessary steps to welcome employees from all countries and walks of life. This will benefit them, and it will also benefit the people they employ.
Copyright 2021. Article was made possible by site supporter Jeremy Bowler.