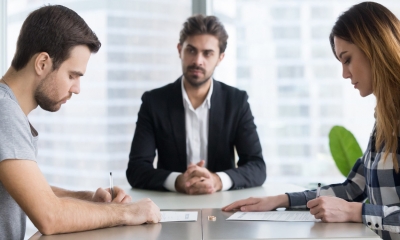 Going through a divorce can be a complex and emotional time. If your marriage has broken down and you wish to legally separate from your spouse, you need to obtain a decree absolute which will formally end your marriage.
Many people assume the divorce process is complicated and managed entirely by divorce solicitors, but you may be able to manage the divorce between you. If both parties agree on the reasons for your divorce, you may be able to obtain a divorce without the need for expensive solicitors. The benefit of hiring divorce solicitors is that you will have expert legal advice on your side to help you navigate this turbulent time.
The divorce process in England and Wales will usually take four to six months but can be quicker if there are no disagreements.
In this guide, we will outline the steps in the divorce process and what you can expect at each stage. If you are planning to manage your divorce, it's important that you fully understand what is happening at each stage. Court staff cannot offer advice or guidance on the right steps to take, so you must understand the process or hire the services of a family solicitor.
It's also important to note that you cannot get a divorce in the first year of marriage. If you have only recently got married and you wish to end your marriage, you may be able to apply for it to be annulled. To annul a marriage, it would either have to be not legally valid or voidable.
The divorce process in England and Wales
The first step in the divorce procedure is to file a form D8, also known as a divorce petition. Only one party needs to file this form. The court will send a copy to your spouse, after which you are known as the petitioner and your spouse is the respondent.
Step 1: The divorce petition
In the divorce petition, you will need to outline the reason for your separation and divorce and how you plan to handle specifics such as children and finances. You will also have to pay a court fee of £550.00 unless you can prove you are a low-income household and in receipt of certain benefits. In which case, you could apply for a court fee remission. You also need to provide your marriage certificate, with a certified translation if you were married abroad.
Step 2: Acknowledgement of service
The court will send a copy of the divorce petition to your spouse and they will have 7 days to respond. They will be provided with something known as an Acknowledgement of service. They must fill in and return the form to the courts. The form acknowledges:
Your spouse has received notice of the divorce petition
They agree with the reasons for the divorce and the choice of words
If they agree to the divorce or want to contest it
Your partner needs to respond within seven days as the court will not follow up with them for a response. If they fail to respond within seven days, it could cost more money to complete the divorce. In this case, you would need to instruct a court bailiff or process server to hand the divorce petition to the respondent.
Step 3: Decree nisi
Once both parties have agreed to the divorce and the terms and the wording, you can apply for a decree nisi (the first decree). This is confirmation from the court that there is no reason you cannot go ahead with your divorce.
If a judge allows your divorce to move forward, the decree nisi will be pronounced. A pronouncement date will then be set. With a pronouncement date, you can move forward with your final decree in six weeks and one day.
Step 4: Decree absolute
You cannot apply for your decree absolute (the final decree) until six weeks and one day after your pronouncement date. The application for your decree absolute will typically take two weeks. Once this is issued, your marriage will be formally and legally ended.
What circumstances are considered grounds for divorce?
There is only really one situation which warrants divorce, and that is the irretrievable breakdown of your marriage. However, this must be established using one of the following five circumstances:
Desertion
Unreasonable behaviour
Adultery
Separation of 2 years (with consent)
Separation of 5 years (no consent)
In your divorce petition, you will have to outline which of these situations has led to the irretrievable breakdown of your marriage. Your partner will also have to agree to this in the acknowledgement of service.
How long does a typical divorce take to complete?
You may be in a hurry to end your marriage so that you can move on with your life, but there are steps you will need to take before it is finalised. If there are no disputes, a typical divorce could take anything from four to six months. However, as it is a legal process and there are steps which need to be observed, the actual time could be very different. If there are any disagreements along the way, a satisfactory outcome will have to be agreed on before the divorce can be finalised.
How much does a divorce cost?
If you are planning to manage your own divorce, you will save a lot of money on legal fees. The main fee for a divorce is £550 in court fees which is due when you apply for the divorce petition. This will be payable by the petitioner, although you may agree to split the cost of the court fees.
Copyright 2020. Article was made possible by Paul Gordon, 720 Digital Ltd