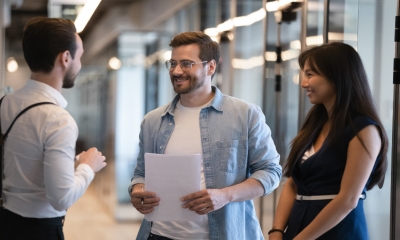 In the UK, changing your name is a fairly uncomplicated process. In fact, it is comparatively easier and faster than opening a bank account! Whether you're planning to change your name after marriage, after gender reassignment for any one of a host of other reasons, you can get it done in an hour to a couple of weeks.
If you're researching how to change your name, the application process is quite straightforward. You just have to go online, fill out an easy application and pay a small fee. Next, the application will be processed and sent to your stated address.
You have to sign this application in the presence of a witness and send it back. And then you have a new name! It really is that simple.
That being said, it's important to keep the following things in mind when changing your name.
Think it through
We have to disagree with Shakespeare, but a lot relies on your name. A person's name in a way represents their identity and personality. Especially if you've built up a professional reputation in your field, your name plays a major role in your career.
Therefore, don't rush the decision to change your name. Take time to think through all the implications. In particular, if you're planning to change your name after getting married, it would be best to wait for a while. The bookings for your honeymoon were probably made in your maiden name, and changing it at the last second might cause problems.
Change your name on other documents
While changing your name is a simple process, the same can't be said for the requirements that follow it. You will have to reflect the change of name on your passport, bank cards, utility bills, driving license, and other legal documents.
Some organisations may require an 'enrolled deedpoll' before they will accept your change of name, and there are different rules in Scotland.
Though most departments don't charge a high fee for changing your name, they might take their time completing it. When you change your name, expect to wait around in offices to update all your documents.
Know the restrictions
There aren't many restrictions when it comes to changing your name. You can channel your inner Phoebe Buffay and pick the quirkiest name.
However, you should be aware of the restrictions imposed to avoid getting your application rejected. Your new name cannot include any symbols or punctuation marks. The first name must be within a limit of 250 characters, and your last name 50 characters or fewer. Also, your new name should be pronounceable.
It is seriously advisable to refrain from selecting a blasphemous name or one that promotes racial or homophobic hatred. In addition to these, you can't pick a title or rank such as Sir or Doctor.
Inform your family and friends
There is no point in changing your name if no one uses it to address you. You should inform your family and friends with an announcement on your social media platform or individually message them.
You can even go above and beyond by throwing a party to announce and celebrate your new name.
Do it for the right reasons
Whether you're truly embarrassed by your name or want to make a fresh start, change your name for yourself. Just because you're getting married, that doesn't mean you have to take your spouse's last name.
Don't let society or anyone pressure you into changing or not changing it. Put yourself first and do what your heart desires. Also, don't change your name to try to get out of a legal obligation. It will just make things worse for you.
Use a secure service
We would suggest you choose a credible service for changing your name. It's imperative to use a secure site as you will be sharing personal details, which makes you vulnerable to identity theft.
Changing your name requires a small fee, so stay away from websites asking for excessively high fees.
Copyright 2020. Article was made possible by site supporter Suzanne Elly, blogger, content marketer and editor with in-depth experience in a diverse range of industries writing on business and marketing topics in Asia, North America and Europe. Follow her on Twitter @Suzanneelly.