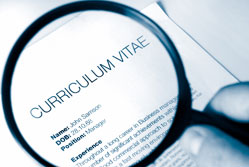 In an era of social media where we increasingly share every detail of our lives online, the amount of misinformation that appears on a candidate's CV is extraordinary. From bumping up a poor degree to exaggerating about essential qualifications, it appears that some individuals often play fast and loose with the facts.
For start-ups that are recruiting staff, there's a real danger of employing a fraudulent candidate; and the risks include having to pay for the cost of recruiting another candidate or even legal action.
The solution is to create a culture within your business that values in-depth candidate checking.
In 2014, 63% of all the confirmed employment frauds reported to Cifas, the UK's fraud prevention service, was due to individuals lying about their education, former employment or qualifications.
While most employers and recruitment professionals are aware of the need to verify a candidate's CV, checking often goes beyond simple verification of academic performance. Many job roles require checks of criminal records, credit history and CRB status.
With staff shortages, many companies are looking to recruit quickly and good candidates can often pick and choose between roles; many start-ups are under pressure to skimp on these vital checks in order to get new staff on board quickly.
The issue is compounded by the fact that once an individual has any kind of employment track record, the temptation is to assume that the previous employer has undertaken the necessary checks.
We often hear of high-profile individuals that have managed to build decade-long careers despite a basic lack of credentials - such former Yahoo boss Scott Thompson who had to step down in 2012 when it emerged that he had falsely claimed to have a computer science degree.
As start-ups struggle to address this, there have been growing calls for the reintroduction of regulation that was abolished 20 years ago. While most employers and recruitment specialists adhere to both the Employment Agencies Act and the Conduct of Employment Agencies and Employment Businesses Regulations, a lack of licensing enables bad practice to persist.
The checking process also needs to be embedded within end-to-end recruitment activity. So rather than a simple "yes" or "no" check-box which provides too much temptation to take shortcuts, companies need a simple way of uploading checks and associated documentation to their database or CRM system.
This way, anyone running the recruitment process in a company can look at a candidate's information, academic credentials and credit check; even CRB documents will be immediately visible.
Robust checking can add a couple of days to your recruitment process. However, it is only by creating the right culture within your start-up – one that values accuracy and depth of candidate review over speed at any cost - that employers can confidently meet evolving employment targets.
By combining this culture with a recruitment process that enforces compliance and enables essential verification documentation to be easily retained and shared, we can all take steps to eradicate CV fraud.
Copyright © 2015 Toby Conibear, European business director at Bond International Software.