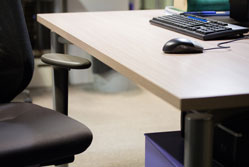 Sick days are estimated to cost UK businesses £29bn per year and our staff take up to four times the amount of sick leave compared to our global competitors. New businesses (like any other) can't risk having staff who are integral to their success costing them money through unauthorised absences. The problem should be nipped in the bud early on.
Reporting staff absence
Even if your start-up only has a few employees, you should have a formal policy on staff absences. Setting up an absence reporting procedure and consequences for unauthorised absences makes your position clear from the get-go. Too much leeway early on only causes problems in the future.
Absence reporting should be done over the phone rather than via text or email, with the staff member having to give a clear reason for their absence. Failing to follow the procedure should have repercussions, be that withholding sick pay or taking disciplinary action. Include a clause in your employment contracts that allows you to request a medical report from employees. This could be necessary in the case of long-term absences or increasingly frequent sick days.
Monitoring staff absence
Monitoring absences can reduce the frequency and costs of staff absence, but too many businesses fail to properly monitor their staff. The smaller your business, the simpler monitoring staff absences should be.
A proactive approach, which takes into account general attitude, productivity at work, and key dates that might tempt employees to stay off work, can be useful. As a start-up, your business is unlikely to have an HR professional to deal with recording staff absences and that's where HR software can help. It can automatically monitor staff absence levels and tell you when they are getting too high, as well as ensuring your business complies with the relevant legislation.
Reducing staff absence
Once you have a procedure for absence reporting and monitoring, you'll want to look at how your business can reduce absences and keep unnecessary costs down. Currently, few businesses set targets for reducing absences, but as a start-up, implementing absence reduction tactics early on will prove beneficial.
While disciplinary action is one way to reduce unauthorised time off, prevention strategies such as well-being programmes have been linked to reduced absenteeism and increased productivity and could therefore be worth pursuing.
Following these three simple steps and putting in place measures to make staff accountable for their absences will pave the way for effective absence management in your business and benefit your start-up in the long-run.
Copyright © 2105 Stuart Hearn, who has 20 years' HR experience and is CEO of OneTouchTeam, an online staff leave planner and HR system for small businesses. Connect with Stuart on Twitter @onetouchteam.