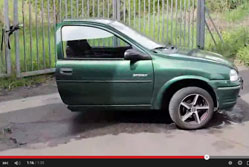 A video featuring an apparently disgruntled husband acting out revenge on his ex-girlfriend has gone viral on YouTube.
Viewed more than six million times, the video, which was made in Germany, shows a man called Martin taking out his power tools to cut the couple's shared belongings in half and then putting them up for sale on eBay.
The decimated objects included a computer, a TV, a phone, a bed, a teddy bear and even a car. The opening words say: "Thank you for 12 'beautiful' years Laura! You've really earned half, greetings to my successor."
The truth behind the spoof
But this video is not what it seems. It turns out that it is a spoof. The stunt is the work of Deutsche Anwaltauskunft, an information portal for the German Bar Association.
After the video hit the headlines, the group confessed all on its website and said: "The idea behind it was to humorously point to a problem that is not only relevant in Germany: too few married couples take precautions for the case of a possible separation - for example with a marriage contract. The event of divorce then often ends in bitter fights under which not only cars and furniture suffer but especially the affected couples and their children."
This spoof had us all fooled because it hits the nail on the head. How can you neatly divide two joined lives into two equal halves? The answer is that you can't – especially when there are children involved.
Can you avoid acrimony?
This video also rightly highlights the fact that so many separations end acrimoniously. Things often start out OK in a separation, but without very skilled mediation, far too many couples end up in a bitter dispute.
Divorce professionals often say that if both parties feel equally hard done by, then the mediator or the court has done a good job. In other words, that's as fair as it is likely to get.
Interestingly, this spoof features an unmarried couple. Few people are aware of the lack of legal rights for unmarried partners. Women in long-term relationships can be at the biggest disadvantage. They have often sacrificed their careers to bring up children but once their kids are no longer minors, they are not entitled to spousal maintenance.
New divorce centres
Divorce proceedings are about to change, however. It's a small step, but from July the Government is opening 11 divorce centres to take most of the 120,000 divorces a year out of the courts.
From a legal perspective, it won't be any easier to get a divorce than it is now, as the actual grounds for a divorce are unchanged. And any financial matters will be still be reviewed by a district judge, while complex matters will still go to the central family court. But let's hope that the divorce centres greatly improve the administrative process.
Less time to spend on paperwork and more on YouTube?
Copyright © 2015 Rory MccGwire, chief executive of Atom Content Marketing, publishers of Law Donut.