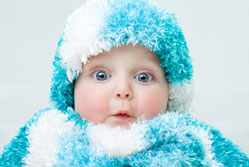 Employment law changes introduced on 5 April mean parents who both work now share rights to up to 50 weeks' leave after having a baby or adopting a child.
Mothers will still take the first two weeks off as compulsory maternity leave (four if they work in a factory), while fathers/partners will also be able to take two weeks' paternity leave. But the remainder of maternity leave can be shared or taken by the father/partner.
Leave and pay
Employees can take shared parental leave in up to three separate periods. By being able to share leave with their partner, they can choose how much time off each of them will take. Leave must be taken before the baby's first birthday (or within one year of adoption), but no more than 12 months' leave can be taken between the mother and father/partner.
Employees must give at least eight weeks' notice of any leave they want to take. Unless you offer an enhanced package, employees receive statutory pay, which is 90% of average weekly earnings before tax for the first six weeks, then £139.58 a week or 90% of average weekly earnings (whichever is lower) for the next 33 weeks (if that amount of time is taken). In total, 39 of the 52 weeks will be paid.
Parents can choose to stick with previous standard maternity/adoption and paternity leave/pay, they do not have to take shared parental leave.
Dealing with requests
The Forum of Private Business recommends discussing "the application in depth with the employee before they formally submit a request, as repeated applications will be very time consuming to assess."
It warns: "Employers have no right to reject an application for continuous leave; shared parental leave can only be rejected on a similar basis to the objections to flexible working. You cannot penalise parents for using SPL or put any pressure on them to cancel or change it. Failure to follow the regulations correctly could result in Employment Tribunal action and considerable financial penalties against you and your company."
Paternity leave proposals
In February Labour announced plans to increase paternity leave to four weeks if elected in May, as well as increase statutory paternity pay by more than £120 a week to £260, paid for by savings in tax credits.
John Allan, national chairman of the Federation of Small Businesses, said: "Businesses will have legitimate concerns about these proposals and it's important political parties understand the practical implications of policy changes. Altering paternity leave so soon after introducing shared parental leave has the potential to cause confusion among businesses that are only getting to grips with the most recent changes. We'd like to see shared parental leave have a chance to bed in before seeking to give dads extra time off.
"The reality is that for small businesses in particular, extending paternity leave from two to four weeks makes it much more likely that they will have to buy in replacement staff as they will struggle with absences. That's a cost that some firms will struggle to afford."
Grandparental leave?
And if you're worried about the prospect of male employees wanting to take more than two weeks' paternity leave, working grandparents could also be granted time off to look after their grandchildren under plans proposed by Labour as part of its 'women's manifesto'.
As The Independent explains, thanks to so-called "granny leave", grandparents could "share up to 18 weeks of unpaid leave, or four weeks in any year, currently afforded to working parents or those with legal parental responsibility".
According to research from Working Families, reports The Independent, nearly three in five grandparents already provide regular childcare. It adds: "National charity, Grandparents Plus, estimates that 1.9m grandparents have given up a job, reduced their hours or taken time off work to look after their grandchildren, which in some cases has meant a loss in income."
Next frontier
Labour deputy leader Harriet Harman said: "Instead of having to choose between retiring early and giving up work, or not being part of the daily care for their grandchildren, we're saying let's look at the leave arrangements to recognise the pattern of family life. This is the next frontier. It's the first time there has been a policy which recognises this role of grandparents."
Neil Carberry, CBI director for employment and skills, said: "Many grandparents play an important role in helping support working families, so these proposals to consider making existing leave entitlements more flexible will help them to balance that responsibility with their own careers. Businesses are looking forward to seeing the details of this policy and making sure it works for both family members and their respective employers." Labour plans to consult on the proposal if it wins the general election.