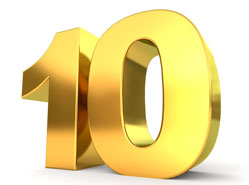 1. "If you run a business, it is advisable to seek professional help in writing a will. For example, if you are a majority shareholder but die unexpectedly without having a will, your shares, and therefore, majority ownership of the business, would be subject to the intestacy rules."
From Why business owners need to have a will by Rob Martins.
2. "Health and safety is all about risk prevention, and in worst-case scenarios, what to do if an accident occurs. First, start by assessing potential risks in the workplace. Once these have been documented, state what you are doing, or have done, to control those risks."
From Ten steps to creating a health and safety policy that works by Malcolm Tranter.
3. "The agreement should set out which matters require a higher level of shareholder support before being approved. This helps to protect minority shareholders from being ambushed during the voting process and is usually applied to decisions which have significant impact on the company."
From Shareholder agreements - the basics by Saracens Solicitors.
4. "Both parents will be required to give their respective employers eight weeks' notice before beginning shared parental leave. The required notice can be given before the child's birth, enabling shared parental leave and pay to begin immediately after the compulsory two-week period of maternity leave."
From How will the new parental leave rules affect your business? by Julian Cox.
5. "In certain circumstances, there is substantial risk, for example, if you offer a settlement agreement without having raised concerns about the employee's work performance or conduct. You may try to claim that discussions and related documents are 'off the record' or 'without prejudice', but you are not entitled to treat them as such. If the employee refuses, they may argue the relationship of trust and confidence between you has been irretrievably eroded, and use discussions and any related documents as evidence in a claim for constructive dismissal and/or discrimination."
From Settlement agreements: a guide for employers by Julian Cox.
6. "You will be expected to provide full details of your business interests in the event of a divorce, which should be backed up by paperwork. Clear and organised historical records can provide a paper trail that shows the court exactly how the business has been run and the involvement both partners have had. It will be better if you present this information, rather than your spouse, where details can be misinterpreted."
From Protecting your business from the possible consequences of divorce by Vicki McLynn.
7. "By following medical advice from the GP, you can strengthen your position with regard to potential unfair dismissal and disability discrimination claims. While you shouldn't rely solely on medical advice, it can help to demonstrate that you have investigated the situation and taken into account all the circumstances before making any decision to dismiss. Proceeding to termination without medical advice can leave you open to a costly employment tribunal claim."
From How to deal with long-term employee sickness by Davis Blank Furniss.
8. "Employment Tribunal submissions increased sharply between 2009/10 (628,000 cases) and 2012/13 (928,000 cases), with a marked rise in the number of women bringing Tribunal Claims as a result of alleged sex discrimination or unequal pay."
From New minimum payment & tribunal stats UK
9. "Acas figures also show that cases heard under Pre Claim Conciliation – the forerunner of the new Early Conciliation scheme – cost just £475 and one working day compared to £3,700 and four days for an employment tribunal. This should all amount to less stress, cost and disruption for everyone."
From Acas Early Conciliation service by Fiona Prior.
10. "Contrary to popular perception, pre-nuptial (and post-nuptial) agreements are not legally binding in England and Wales. Although the Supreme Court decision (in the landmark case of Radmacher v Granatino) strengthened the force of pre-nups and ruled that they should be upheld by the courts as long as they are fair, judges can still order different financial provision in the event of a divorce."
From Could pre-nuptial agreements become mandatory? by Muna Saleem.
Many thanks to the experts who shared their knowledge in 2014 to ensure this blog remains so popular. A massive 'Thank You' to all our readers, too, of course, we hope you found that reading this blog was helpful, thought-provoking and enjoyable. Happy Christmas – here's to a fantastic 2015…