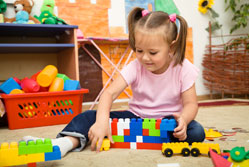 News that many families in Britain pay more for childcare than they do for their mortgage won't come as a surprise to many working families. It has long been accepted by most women that if they want to go back to work after having children, at least for the first few years, the majority of their salary will, in all likelihood, be spent on childcare. Unfortunately the affect of this is to put off a lot of talented women from returning to work, especially if they have more than one child - at a cost to both business and the economy.
So what can businesses do to help? By recognising the value of experienced staff and offering more flexible working hours, employers can help ease the burden and financial worry that may prevent parents, usually mothers, from returning to work. Offering job-share schemes, part-time working - for example during school hours - and working from home are all options that can help parents successfully juggle work and childcare in a more cost-effective way.
The time and costs to business associated with recruiting new staff are just one of the incentives for trying to retain valued employees. Offering a more flexible way of working and having an understanding attitude towards working parents is also likely to increase your staff loyalty. And loyal employees who feel their skills and experience are being recognised and rewarded may be more willing to go the extra mile, when needed.