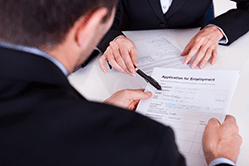 An employment reference used to be just like a school report. Whereas a report would reveal the pupils who had played truant, claimed that the dog had eaten their homework or found themselves in detention, a reference would tell an interviewer whether their prospective employee had phoned in sick on a Monday, had any capability issues or had been suspended. Both would praise model pupils.
With the Data Protection Act 1998, and claims of defamation and discrimination from disgruntled former employees, a large number of employers drew up a new policy. 'We will provide a reference,' they cried, 'but only with the bare minimum!'
The full reference, which required lots of hard work trawling through ancient employee records, was replaced by a simple sheet of paper containing a former employee's start and end date, salary and reason for leaving - all pulled together in minutes.
What good is this for you as an employer taking on their former employee?
There is no obligation to provide a reference, but if a reference is provided, the referee must ensure that it is true, accurate and fair (however tempting it might be to give a glowing reference to a bad employee in an attempt to move them on).
You can protect your interests by making a job offer subject to satisfactory references. But if the ex-employer fails to provide any detail on the reference, is it really the employee's fault? Do you really want to risk losing out on what could be a star employee? Do you frantically try to get a reference from the pub they worked at when they were younger or ask their family friend to vouch for them? Well yes, you could, but you could also judge them for yourself - by using a probationary period.
Probationary period
Act wisely by ensuring you have clear policies on managing absence, capability and disciplinary concerns and what you stance is on these during their initial months. You are well within your rights to dis-apply your full procedures during their probationary period, as long as you do this consistently with all new starters (to avoid discrimination).
Absence
Have clear absence triggers (eg no more than seven days absence over three occasions in six months). Make these known to your new employee from day one and advise them of the consequences of failing to comply.
Hold a return to work interview after each absence, document the discussion and remind the employee of failing to comply with your absence policy.
If a certain number of absences triggers a discussion or formal action among other employees, ensure you apply this to those on probationary, too.
Arguably an extreme approach, yet one certainly used, is not allowing employees to pass their probationary period if they have hit or exceed the trigger. This is well and just for non-related periods of short-term absence, but you risk being hauled in front of an employment tribunal if these absences are related to a disability.
Capability
Only the gifted can walk into a brand new role and pick it straight up. Most will need training, support, coaching and mentoring. To keep them on the straight and narrow, regular review meetings are a must.
If, at the end of their probationary period, they aren't suitable for the role, it shouldn't come as any shock to them when you let them go, but be flexible and consider an extension for those who are getting close to passing it.
Disciplinary
Start as you mean to go on by explaining what is and isn't acceptable behaviour. Line managers can usually nip minor mishaps in the bud with a quick chat to remind them of your policies.
If your new starter simply doesn't know how to behave, rather than formal procedures, include a provision in your policies to allow you to take a short cut (eg "We have the right not to apply our full disciplinary policy during your probationary period"). As with any employee-relationship issue - acting fairly and consistently is key.
Happy ending?
So, in the absence of a glowing reference, having clear policies, acting appropriately and setting boundaries can give you your 'happily ever after'.
Blog supplied by Helen Majkowski, employment executive, at Brilliant Law.