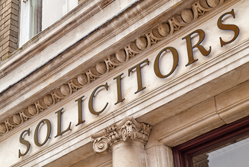 Almost 90% of small businesses in England and Wales don't contact law firms for advice when faced with legal problems. That's the damning conclusion of a report called In need of Advice?, which has just been published by The Legal Services Board.
The report is based on an online YouGov survey of 9,703 small businesses, which took place in December last year, that suggests that 38% of small firms face many legal problems that impact on their day-to-day operations and growth, but only 12% of those legal problems led small firms to seek professional legal advice from solicitors, with 52% of respondents opting for a 'DIY approach'.
Small businesses' legal problems were mainly caused by disputes with other businesses (48%), individuals (18%), Government (17%) and employees (10%).
While more than half (54%) of respondents agreed that legal processes are "essential for businesses to enforce their rights", only "13% agreed that lawyers provide a cost-effective means to resolve legal issues".
Whether most small firms are well placed to provide their own reliable legal counsel is another question, of course. Only 5% of respondents had "an in-house legal expert"; while 8% had legal retainer contracts; and only 2% of small firms had both.
"Reliable, accessible, good-value legal services are as important to growing small businesses as bank finance," says Chris Kenny, chief executive of The Legal Services Board. "But this research shows that law firms are missing this opportunity to contribute to growth – and to grow themselves.
"So the findings serve as a wake-up call. It isn't meant to criticise. It's intended to highlight the gaps that exist and the opportunity that presents. There is a huge section of the business community whose legal needs are not being met. Meeting those legal requirements represents serious opportunities for legal firms that can respond flexibly and innovatively to the needs of small businesses."
According to Kenny, this research reveals what small firms' key legal needs are. "It [shows] what small businesses want and the forms in which they need it. Legal advice shouldn't just be seen as the last port of call – one that is only turned to if absolutely necessary.
"Law firms need to reflect on both the nature of the services they offer and how they explain and communicate them, so perceptions are challenged. The findings of this report help to point the way. If legal firms act on it, the benefits to all concerned could be huge."
According to the most up-to-date figures available from the Department for Business, Innovation & Skills:
There were more than 4.8m private sector businesses in the UK at the start of 2012, the highest estimate since 2000.
They employed an estimated 23.9m people, and had an estimated combined annual turnover of £3,100bn.
The majority (62.7%) of private sector businesses were sole proprietorships, 28% were companies (ie incorporated) and 9.3% were partnerships.
At the start of 2012, SMEs (small and medium-sized enterprises) accounted for 99.9% of all private sector businesses.
SMEs also accounted for 59.1% of private sector jobs and 48.8% of private sector turnover at the start of 2012.