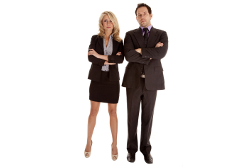 When your relationship has crumbled, and you want to cut your ties as soon as possible, it seems easy to head straight to a divorce solicitor. But there is another way.
Whether you're married, cohabiting or just have children together, mediation is the calmer and cheaper way forward. As part of a rethink in the way that separations are handled in this country, mediation is being promoted as the first port of call. The Family Justice Review has recommended increased provision of mediation at an early stage to prevent cases ending up in court with no good reason.
The changes were prompted by concern about the huge sums of public money spent on divorce and separation as well as the long-term effects on children and society of couples who remain in conflict for years after they have split. Whereas a divorce can cost thousands in legal fees, mediation can come in at a tenth of the cost.
Mediation: what really happens?
As from this April, anyone considering making an application to the court to sort out arrangements with their ex about the children or their finances following separation must attend an initial Mediation Information and Assessment Meeting (MIAM) with a mediator. An assessment can then be made about the best way forward, for example by working through a parenting agreement in mediation.
The new proposals in the Family Justice Review - if implemented - will enshrine this in legislation and, in addition, say that If children are involved, both parents must also attend a Separated Parent Information Programme (SPIP) to discuss ways of minimising conflict and increasing communication, with the expectation they will then attend mediation. Only after they have attended a MIAM and SPIP can they make an application to the court.
A family mediator will sit down and work out with a separating couple how to divide any assets up in a practical, realistic and fair way. We start by setting out certain guidelines. Neither party is allowed to interrupt or speak over the other person, for example; we know that it is important that people listen to each other.
Mediation can be possible with the most polarised of couples. Mediators work out why exes can get angry with each other - it's usually fear of some sort, such as the prospect of losing the children. Once their other half has reassured them, they can start talking.
What about the children?
A major mediation goal is to make sure children's views are taken into account and that they are listened to – we usually see children aged from 7 upwards. There is increasing evidence that children's needs will be met by minimising conflict between their parents and assisting parents to communicate in a constructive way together about their children.
Research shows that 12 years after separation, couples who have gone through the mediation process are still reaping the rewards with a much happier outcome and an ability to communicate as parents in the interests of their children.
Family affairs
Susan and Nick came to see me recently. They were still living in the same house. Susan wanted to stay in the family home with their two children, a six-year-old boy and an eight-year-old girl. Tension was rising because Nick was refusing to move out of the house. Nick told me he was terrified he was going to lose the children and that is why he wouldn't move out. He did not want to be a 'Saturday' parent.
Putting the legal terminology aside, such as custody, access, residence and contact, we spent the session focusing on the reality of their day-to-day lives and what arrangements were possible. Using a flip chart, we worked out a schedule of arrangements for the children which suited both parents' working patterns and the children's activities.
A sense of equality
Sarah and Tom came to mediation. They wanted to separate and reach a financial settlement and work through the idea of a shared arrangement for their two-year-old daughter.
The couple spent the sessions looking into the practical side of how 50-50 shared care pattern would work in reality. They talked about nurseries, bedtimes, dropping off plans, birthdays, holidays, extended families and telephone calls.
Splitting the sessions in half, Sarah and Tom were able to work through financial issues too and reach an agreement to move them both forward, enabling them both to buy a new property.
If you think family mediation might help you or anyone you know look at my website and get in touch.