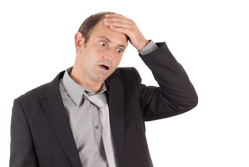 Here at BHP Towers we're recruiting. Hiring writers has always been fiddly – do you pick applications like 'CV attached' or the handmade sponge dinosaur in cheery green that shows the applicant's crazee side? In the creative industries, everyone wants to look intr'sting. (Mind, everyone who really makes a living by the pen looks like a crystal meth After picture, takes hyphens seriously as a dinner-party topic and falls asleep after two pints, but that's glamour for you.)
These days the quest to be personally fascinating applies to more careers than creatives – The Telegraph tells us that a careerbuilder.co.uk survey found that most recruiters now check potential staff online. Farhan Yasin, who runs the site, explained, "Social networking is a great way to make connections with potential job opportunities and to promote your brand across the internet."
You don't say. Shaping your personal brand is the big deal, given that the first place recruiters look is your private life. Mr Yasin's survey revealed that, apparently, recruiters are after digital dirt – half promptly rejected people for boasting about drink and drugs or faking their qualifications. Nine per cent hit the shredder because their weekend pictures were a little too recreational. While that sounds awfully saucy, it's entirely
reasonable; recruiters just want to weed out applicants who are liars or likely to scuttle home with hangovers.
Assuming you have the brains to turn your PC on, you probably have the wit not to upload your latest fantasy shoot or your Priory records. Maybe you even remembered to set your friends with tattoos to Private. There's a bit more to it than that, though. Assuming you're not looking for a job in the adult industries, how do you look appealing to employers while also appearing, er, alive?
Being authentic in public is your new career challenge. With a face of deep woe, my flatmate said to me last night: "I didn't offer that guy the job because their facebook was too dull." He is a civil servant. That's a worry to us all.
The Telegraph reveals Mr Yasin's key advice is to stay light, bright and upbeat online. "Keep your gripes offline" said Mr Yasin, who pointed out results showed that no one likes a moaner.  Don't bore readers senseless with endless updates on a bitter break-up, or worse, a discouraging sandwich. Avoid making stuff up about how wildly wacky you are – facebook-fakers are easily spotted.
You are earnestly entreated to "highlight specific accomplishments inside and outside work" which is admittedly cringe-making, but apparently works. Use privacy settings, all the time. On chat sites, set alias usernames and change them regularly. If you use LinkedIn, bear in mind your entry and its connections probably belong to your employer, so, ironically, you may want to think again about making contacts with people you actually need as, er, contacts in your career as opposed to one job. Tweet from work as a worker, and from your life as you – have two accounts. But here's the rub – don't be too bland. The personal sells you better than anything – so add a dash of your individuality into everything whether it's humour, news you like, or, vitally, your own career expertise. Mind you, I just want a colleague who will go out for frothy coffee.
Georgina Harris, Law Donut editor