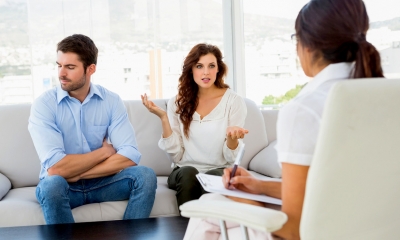 A family mediation service can be helpful in any dispute where you and your partner (or former partner) cannot reach an agreement. Rather than communicating through solicitors or going to court, you work with a trained family mediator who helps you talk through issues and negotiate an agreement
Using a family mediation service
A family mediation service can help resolve a wide range of disagreements such as arrangements for your children, financial agreements and other matters.
Family mediation takes a constructive approach to resolving problems rather than focusing on arguments. This means it can help you to maintain a reasonable relationship and level of communication with your partner - which is helpful if you've not definitively decided to separate or divorce or if you need to work together for the sake of any children.
To be successful, you need to understand what a family mediation service can and cannot do, and how to approach it:
Although family mediation involves talking through the issues you are arguing over, it is not designed to provide emotional support or bring a couple back together. These can be approached using separate counselling services such as those provided by Relate.
Both parties must be willing to negotiate in good faith. If finances are involved, honest disclosure of your financial position is a must - any agreement based on inaccurate information can be overturned later.
Family mediation is not suitable if one partner is violent or overly dominant.
Effective family mediation can be faster and cheaper than traditional dispute resolution. Mediation sessions only require one trained expert rather than each party having their own solicitor (although separate legal advice may also be needed - see below).
Helping you take your next steps, from the UK's largest specialist family law firm (rated 'Excellent' by 94% of customers on Trustpilot).
The family mediation process
Family mediation begins with an initial mediation information and assessment meeting, giving you the chance to find out more about how mediation works and for the mediator to assess whether mediation is suitable for you.
If you proceed with mediation, the mediator will ask you both to provide basic information. If your dispute involves financial issues, you will each need to provide information on your financial position, typically by completing a form setting out your income, expenditure and financial assets (such as savings and investments).
Typical family mediation involves two to six sessions, each of between ninety minutes and two hours. More sessions might be needed if your dispute is complex (for example, more complicated financial issues).
The mediator uses their skills to guide the discussion through a series of stages:
Establishing what needs to be discussed.
Exploring the issues, including allowing each partner to express their point of view (and encouraging the other to listen).
Identifying how you could deal with the problem.
Reaching agreement where possible and identifying any unresolved areas. The mediator will provide you both with a written summary of what you have decided.
Generally, family mediation takes place in joint sessions involving both partners. You can speak freely, knowing that discussions during mediation are confidential, and nothing you say can be used against you if the dispute later ends up in court (except details of your financial resources).
However, the mediator must alert the police or social services if they suspect someone is at risk of serious harm or is benefiting from crime.
Legal advice and family mediation services
During family mediation, the mediator acts as an impartial expert. Although they may highlight issues that need to be taken into account (for example, emphasising the need to focus on the welfare of any children involved), the mediator will not provide either of you with legal advice.
Therefore it is advisable to get independent legal advice before using a family mediation service. This will help you understand what the legal position is. Knowing what outcome you could reasonably expect if a dispute ended up in court can make it more likely that the mediation will succeed.
Be aware that family mediation services are not legally binding. Either party is free to stop mediation at any time, or to decide afterwards to reopen the dispute regardless of any written record of your decisions. If family mediation has helped you to reach a satisfactory agreement, ask your solicitor to apply to the court for a consent order that will make the agreement binding.
You can find a local mediator and more information about family mediation from the Family Mediation Council.