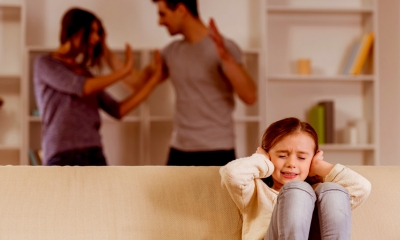 Suffering domestic violence or any other kind of domestic abuse from your partner or former partner can be an extremely difficult situation, for both you and any children. But although domestic abuse may make you feel helpless, there are steps you can take
Domestic violence and abuse: first steps
If you are in immediate danger, dial 999.
If you are not in immediate danger, you should still consider contacting the local police domestic violence unit (using the non-emergency phone number 101). Domestic violence is a crime, and the police can take steps to protect you and your children. If necessary, these may include:
arresting the perpetrator (who can be held without charge for up to 24 or 36 hours);
issuing a domestic violence protection notice (for example, requiring that they stay away from your home) and then applying to the court for a domestic violence protection order lasting a further 14 to 28 days;
bringing criminal charges.
A domestic violence protection order can give you a breathing space to sort out what you should do for the longer term.
Whether you ask the police for help or not, you should make plans for how you and any children can get away from the domestic violence or abuse you are suffering. You may be able to stay with friends or family, or get away to a refuge. In an emergency, the local authority has a responsibility to provide you with accommodation if you would otherwise be homeless.
Helping you take your next steps, from the UK's largest specialist family law firm (rated 'Excellent' by 94% of customers on Trustpilot).
Taking legal action against an abuser
If you are married to (or in a civil partnership with) your abuser, you may want a divorce (or dissolution of the partnership). Even if you have not suffered physical violence, abusive behaviour that you find intolerable is grounds for a divorce.
You may be worried about continuing abuse or violence during or after a divorce. In which case you can apply for an injunction or a restraining order against your partner to protect yourself and your children.
There are two types of injunction: an occupation order and a non-molestation order. Both can be used to impose restrictions on the offender before they have been charged with a criminal offence.
An occupation order deals with who occupies the family home.
A non-molestation order is to prevent harassment and further abuse.
If your situation does not meet the criteria for an injunction, a restraining order may offer a solution. A restraining order is issued at the end of a criminal case. It can be issued whether or not the offender was found guilty.
An abuser who breaches an injunction or restraining order can be arrested.
If you cannot afford legal advice, you may qualify for legal aid if you or your children are the victims of domestic violence or abuse. You should contact Civil Legal Advice (0345 345 4 345) or use the online legal aid eligibility checker.
Domestic violence and abuse helplines
Women suffering from domestic abuse may want to contact the 24 hour National Domestic Violence Helpline run by Women's Aid and Refuge 0808 2000 247. Men who are victims of domestic violence can contact the Men's Advice Line 0808 801 0327.
As a victim of domestic abuse, you can also get free help in securing an emergency injunction from the National Centre for Domestic Violence 0800 970 2070.
If you are concerned that your child is the victim of abuse, or being affected by the abuse you suffer, you can contact the 24 hour NSPCC helpline 0808 800 5000. Children themselves can contact ChildLine on 0800 1111.
If you want help to stop yourself from abusing a member of your family or a former partner, contact Respect 0808 802 4040.
If you just need someone to talk to about your problems, you can call the Samaritans 24 hour helpline on 116 123.