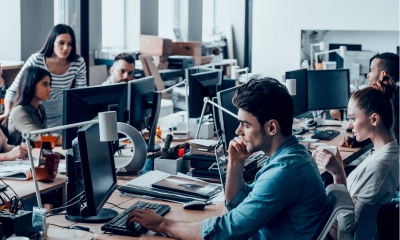 A new survey has found that more than one in two UK office workers believe their health is being impaired by their workplace.
There has been a significant focus on wellbeing at work in the past few years and yet a new study has found that 53% of 2,000 UK employees polled said they thought that their workplace was bad for their overall health.
The survey, conducted by 3GEM Research for Home Leisure Direct, has found that 90% of employee respondents said that a healthy workplace is "fundamental" to their work-life balance.
The findings also reveal that two-thirds of workers spend more than 60% of their time at work sitting down; and one third say that they sit down for more than 80% of their working day.
Almost half (44%) admit that they do not get the recommended 30 minutes of exercise a day; and 72% of respondents say they are worried about their lack of activity.
Asked whether their managers care about their working environment, 51% said "no". In addition, 65% of those polled said they would consider switching employers for a better working environment.
"Considering we spend so much of our time at work, it's no surprise that it's likely to have an impact on our health," said Andy Beresford, md of Home Leisure Direct. "Be that a bad back from a lack of lumbar support, or simply being static for too long at a deskbound job - there are many ways that our health can be impacted, and indeed impaired, by the space in which we work."
He added: "Of course, the majority of workers would like better wages and more holiday - but improving their working environment is a step in the right direction ? a vibrant and engaging office space does wonders to improve productivity and retention, while reducing absence and general disillusionment with your employer."
Also this week, a new trial of a four-day working week has been found to improve productivity and reduce employee stress. New Zealand financial services firm Perpetual Guardian switched its 240 staff from a five-day week to a four-day week last November and maintained their pay. The trial was monitored by academics at the University of Auckland and Auckland University of Technology.
Analysis of the results has shown that productivity improved and there was no drop in the total amount of work done. In addition, staff stress levels fell from 45% to 38% and work-life balance scores increased from 54% to 78%.