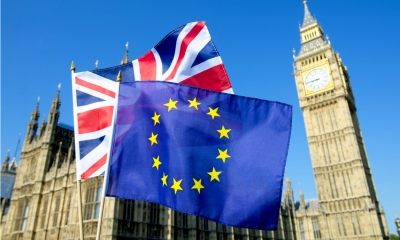 The prime minister may be having a hard time convincing MPs to back her Brexit deal but business groups have broadly welcomed Theresa May's draft withdrawal agreement.
Theresa May has addressed the CBI today in a bid to get business approval for the draft withdrawal agreement. CBI president John Allan has called for MPs to back Mrs May's deal, even though he says it is not "perfect", in order to avoid the "wrecking ball" of no deal.
Other business groups have taken a similar line. Stephen Martin, director general of the Institute of Directors (IoD), said: "Business leaders have been desperate for this stage of the negotiations to reach a conclusion, and although it has taken longer than firms would have liked, it is clear definitive progress been made between the UK and EU. It is particularly welcome that the cabinet has now come to an agreement on the withdrawal text and the outline of the future framework. We look forward to a summit at the end of this month where we can finally say to our members that the ink is dry on this deal."
He added: "We urge all politicians to think long and hard about how they react to this first-stage agreement. Leaving the EU without a deal is a very bad outcome for businesses, workers and consumers, and this is simply an inherent risk that comes with voting down any withdrawal deal. Our members will adjust to a new relationship with the EU, but they must be allowed to do this in as smooth and orderly manner as possible."
Mike Cherry, national chairman of the Federation of Small Businesses (FSB), said small firms would be "relieved" to see progress being made. "An agreed draft withdrawal agreement is a significant step back from the cliff edge which would result in a chaotic no deal Brexit that would be deeply damaging and dangerous for our small firms," he said.
"If this deal passes parliament, small businesses will be given the security of a transition period which will allow them to carry on operating as they do now from the 29th of March 2019 until at least the end of 2020. This brings with it some certainty that our small businesses have craved. It will hopefully lead to businesses pushing the go button on investment decisions that have been on pause as they waited for a better understanding of the medium-term trading landscape post Brexit day.
Cherry said that negotiations must now "move quickly" to establish the UK's future trading relationship with the EU after July 2020. He said: "A deal is now on the table and it is important that the UK government and EU press ahead as this is the best chance of avoiding a catastrophic cliff edge that would disproportionately harm smaller businesses."
Dr Adam Marshall, director general of the British Chambers of Commerce (BCC), said: "Businesses will recognise the huge efforts made by the prime minister and across government to reach this milestone. With people's livelihoods and the future prospects for many companies in the balance, this is not the time for snap judgments."
He said that businesses will be looking carefully at what he called the "real-world implications" of the agreement. "After two and half years of uncertainty, this may be the end of the beginning - but not yet the beginning of the end. Our firms need clarity and precision on the specific terms of trade they will face in future, many of which are still to be agreed."