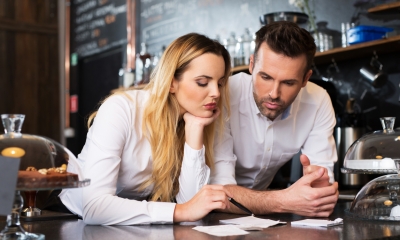 Research conducted by the Institute of Directors (IoD) has found that the post-election bounce in business leaders' economic confidence has evaporated following the emergence of the Covid-19 coronavirus.
The IoD polled 920 members between 28 Feb and 9 March. Its findings show that business confidence is now at its lowest since September 2019, with global economic conditions currently cited as one of the biggest obstacles holding back business.
Around one in five IoD members surveyed said the coronavirus outbreak represents a high or severe threat to their organisation, with a further 40% describing the risk as moderate. Just over a third said that coronavirus posed little or no direct threat.
In response to the outbreak, one in three directors polled had already cancelled or restricted employee travel in their organisation. The most common actions taken were: improving office hygiene (58%), communicating advice to staff (57%) and encouraging remote working (46%).
Just over half of those surveyed had so far reviewed their business continuity plans to manage the impact of Covid-19, as recommended by the government's action plan.
Tej Parikh, IoD chief economist, said: "Businesses large and small are already responding with agility, with many already taking sensible mitigating actions at this stage. However, with the prospect of orders drying up and staff in quarantine, some firms will be looking at a potential cashflow crunch, and confidence in the economy has taken a knock.
"Government must be at the ready to take swift action to help cash-strapped businesses bridge this challenging period. The upcoming Budget also provides an opportune moment to lower business costs and support investment to amplify the post-outbreak recovery."
Courier services company ParcelHero has predicted that home shopping is likely to double from 20% of all retail sales to 40% as consumers switch from buying food and household items in-store to home deliveries.
ParcelHero is urging retailers to make sure they are ready for a significant shift in shopping behaviour ahead of a peak in coronavirus cases. As of today, England's deputy chief medical officer Dr Jenny Harries has said the peak is likely to start within the next two weeks.
"If this peak period does happen, we believe the rise in demand for home deliveries of food, household items and in particular products such as bleach and soaps is likely to increase by 100%," said David Jinks, ParcelHero's head of consumer research. "Retailers need to gear their omnichannel sales towards ecommerce and plan for a decline in store purchases over the coming months to be prepared.
"Retailers of all sizes must take stock of their online sales capability and consult with their logistics teams and partner courier networks to be prepared for a significant jump in home deliveries. This is not a case of profiteering during a potential emergency, it is just switching the way they meet normal consumer demands. In fact, it seems sales on the whole will decline during the virus peak period, as people will have other things on their minds besides shopping, but the overall home delivery portion of all sales is likely to double."
Written by Rachel Miller.