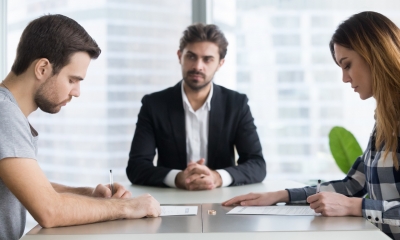 In June 2020 a new set of divorce laws were passed by the UK parliament. But these laws will not come into force until autumn 2021 at the earliest, if there are no delays in making all the necessary preparations for the changes.
One simple ground for divorce
Instead of the current five legally acceptable grounds for divorce, the only ground will be the irretrievable breakdown of the marriage. It is anticipated that this reason alone will need to be given in a statement. No specific explanations or evidence will need to be provided as to why the marriage has broken down.
Contesting a divorce will be much harder
Currently a divorce can be contested for any reason. The new laws will all but remove the option of contesting a divorce, although the details have yet to be revealed. It is anticipated that there might be specific circumstances in which a court would not allow a divorce to go ahead; for example, if one party would be left homeless.
Joint applications are allowed
Separating couples can make a joint application for divorce if they choose to. In effect they are both consenting, which should make it easier to amicably agree on tricky issues such as children and finances.
Updated terminology
'Decree nisi' will become a 'conditional order'.
'Decree absolute' will become a 'final order'.
Twenty-week period of reflection
There will be a minimum period of twenty weeks between the start of the proceedings and the conditional order (the decree nisi). This will allow for a period of reflection, giving couples the opportunity to reconcile, or seek mediation or counselling services. If separation is inevitable, this period will be useful to discuss important matters such as finances or child arrangements.
The minimum period of six weeks and one day between the conditional order and final order (the decree absolute) will be retained. In theory, this means that the entire divorce process should take no longer than six months if the couple agree on everything.
Impact of the changes on people's lives
It is hoped that the above changes in the divorce laws will help families by encouraging amicable proceedings, rather than causing further problems. The new laws remove the need for one party to 'blame' the other, often with embellished evidence of unreasonable behaviour in order to make the divorce application legally successful. The new laws also prevent people being trapped in unhappy marriages and provide greater protection for victims of domestic abuse. The changes should help to minimise the impact of divorce on children, who are often exposed to the animosity of divorce proceedings.