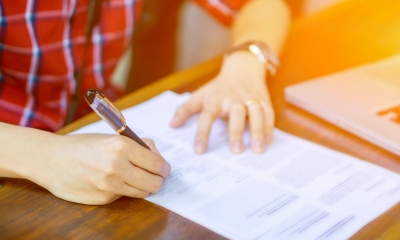 Whether you are trying to handle your divorce yourself or just want to know what is going on, it helps to understand what the most common divorce forms are
Divorce forms for the divorce itself
Divorce petition - D8. You ('the applicant') complete this form to apply for a divorce. The form sets out the details of who is getting divorced, on what grounds, and whether any children are involved. You also need to send the court your original marriage certificate or a certified copy and a court fee.
Acknowledgement of service - D10. If your spouse has filed for a divorce, you ('the respondent') will be sent this along with a copy of the divorce petition. You complete and return the form, to either agree to the divorce or saying that you want to defend it.
Answer to a divorce petition - D8b. You use this form if your spouse has filed a divorce petition but you want to defend it - either because you don't think the marriage has broken down irretrievably or because you don't agree with what your spouse has said in the divorce petition.
Application for a decree nisi - D84. Once the respondent has agreed to the divorce, you use this form to ask for the decree nisi to be granted. You also complete a form D80 confirming that the details given in the acknowledgement of service (D10) are true. There are different versions of the D80 (D80A, D80B and so on) depending on what the grounds for divorce are.
Application for decree nisi to be made absolute - D36. From six weeks and a day after the decree nisi has been granted, you use this form to apply for the decree absolute, finalising the divorce.
From Autumn 2021 (or perhaps later), divorce law will change. Divorce will be on a 'no-fault' basis, to encourage amicable proceedings. The whole divorce process will become much simpler and easier. 
Divorce forms relating to financial settlements
Statement of information for a consent order - D81. If you have agreed financial arrangements between yourselves and want these to be made legally binding by a consent order, you can use this form. The form gives details of how much capital and income you each have and where each of you (and any children) will live.
Notice of an application for a financial order - Form A. Form commonly used to apply to the court for a financial order (eg for your former partner to pay you a lump sum or periodic maintenance payments, or to transfer ownership of the family home). You use this when you cannot negotiate agreement between yourselves.
Notice of a first appointment - Form C. Sent to each of you by the court giving you the date of your first appointment with the judge.
Financial statement - Form E. This form gives detailed information about your assets, debts, pension arrangements, income and financial needs. You complete this as part of applying to the court for a financial order and send it to each other before the first appointment. Couples with complicated finances or who know little about each other's financial position may also use this as part of negotiating their own arrangements.
Estimate of costs - Form H. You use this to keep the court up to date with your estimated costs (eg legal fees) when applying for a financial order.
Helping you take your next steps, from the UK's largest specialist family law firm (rated 'Excellent' by 94% of customers on Trustpilot).
Divorce forms concerning children
Application for a child arrangements order - C100. This is the key form used in most cases. For example, you use this form to apply for a child arrangements order, if you want to stop the other parent doing something or if you want an order relating to a specific issue.
Allegations of harm and domestic violence – C1A. This form is used with the C100 in cases involving domestic violence or abuse.
Application for an order - C1. Used for applications relating to guardianship or parental responsibility.
More divorce forms and guidance notes can be found using the HM Courts and Tribunals service form finder.