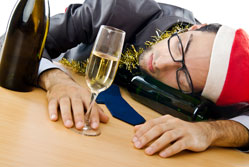 The annual workplace Christmas party is traditionally a way for colleagues to celebrate their successes over the past year and let their hair down in the build up to the holidays.
Although some businesses put on a lavish event, often it's just a meal with a few drinks. The majority of these work "dos" are appreciated by employees and go without a hitch, but occasionally problems do arise and employers can be held vicariously liable, because the party will generally be considered to be an extension of the workplace. Avoid a litigious start to the new year by guarding against some of the main issues.
Sex discrimination and harassment
Some of the most clichéd Christmas party shenanigans, such as asking a colleague for a kiss under the mistletoe or distributing photocopies of one's posterior, can potentially lead to sex discrimination or sexual harassment claims under the Equality Act 2010.
Sexual jokes, remarks, so-called "banter" or simply mild flirtation may cause offence or discomfort and employers should ensure that party attendees are aware of the boundaries. Suggestive "selfies" or risqué photos taken at a party and circulated on social media by colleagues can also lead to headaches that continue beyond the hangover. Even a sexually suggestive "Secret Santa" gift can lead to legal problems.
Case in point: Livesey v. Parker Merchanting Ltd [2004].
Religious and philosophical belief discrimination
Although mass consumerism has diluted its origins for many, Christmas is still a Christian religious festival and some of the traditions may potentially cause offence to people who follow other religions, atheists and agnostics.
Under the Equality Act 2010, employers must ensure that staff who hold different religious or philosophical beliefs do not suffer discrimination at a work Christmas party. This might mean providing non-alcoholic drinks (eg for teetotalers or Muslims), halal or kosher meat, vegetarian or vegan meal options. If the event is being framed specifically as a Christmas party, attendance should not be mandatory (ie to avoid causing offence to anyone who does not celebrate Christmas).
Case in point: Elgedawy v Hanover Park Commercial Ltd.
Age, race, disability, sexual orientation, marital status, pregnancy and transsexuality
These are the other protected characteristics, on grounds of which it's unlawful to discriminate under the Equality Act 2010, and employers should take reasonable steps to ensure that staff are not affected by "banter" or inappropriate humour relating to any of these characteristics. Furthermore, if any employees with disabilities are attending, disabled access should be provided at the venue. And if partners are invited, "plus one" invitations should not make assumptions about gender.
Case in point: Nixon v Ross Coates Solicitors & Anor [2010].
Health and safety
Whether the work Christmas party is held on or off-site, the employer will generally still be responsible for the health and safety of their attending employees under the Health and Safety at Work etc Act 1974. As alcohol is often involved, the likelihood of slips and trips can increase, and there is even the possibility of high spirits taking a change of direction and ending up in a fight. Employers should also consider how their staff members will get home safely. Another health and safety concern relates to food, and employees with certain food allergies should be catered for.
Case in point - Westlake v ZSL London Zoo.
Data protection and social media
Mobile phone cameras and social media can bring further festive gloom for employers, who need to ensure they abide by the Data Protection Act 1998. In particular, care must be taken if photos of attendees are posted on social media sites or distributed to colleagues, especially if there are inappropriate or compromising. Also, comments posted to social media feeds by employees whose virtual tongues have been loosened by alcohol may cause post-celebratory issues.
Case in point: Game Retail Ltd v Laws [2014].
Copyright © Alex Heshmaty, legal copywriter and journalist. Alex runs Legal Words, a legal copywriting and marketing agency based in Bristol.