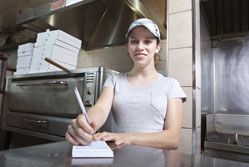 As of 1 October 2015, the annual round of National Minimum Wage (NMW) increases came into effect, with the rate for anyone aged 21 and over going up to £6.70 from £6.50. The most significant increase was to the apprentice rate, which was hiked up from £2.73 to £3.30.
But many workers on the minimum wage will not have to wait another year to see further increases. Employees aged 25 years or over will benefit from the new "National Living Wage" (NLW) which is set to be introduced from April 2016 and will override the NMW rates for anyone in this age bracket. Employers will need to pay a minimum of £7.20 per hour to any of their staff who are 25 and over from April. The Low Pay Commission will recommend future rises to the NLW, with the expectation that it will reach £9 per hour by 2020.
NLW is not replacing NMW and the latter will continue to apply to any employees under the age of 25. However, many retailers have pre-emptively raised the pay packets of their lowest earners to the NLW or higher, irrespective of age. Costa are reportedly paying £7.40 to their trained baristas (£8.20 in London) and Aldi has vowed to introduce a new £8.40 minimum rate for its employees from February 2016.
It should be noted that the NLW, which employers will be required to pay by law from April 2016, is distinct from the living wage set by the Living Wage Foundation. The rate set by the foundation - described as "an independent calculation that reflects the real cost of living" - currently stands at £8.25 (and £9.40 in London).
Alex Heshmaty is a legal copywriter and journalist. He runs Legal Words, a legal copywriting and marketing agency based in Bristol. [email protected]. uk.linkedin.com/in/alexheshmaty