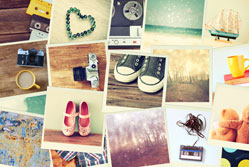 Many businesses use images every day, whether it's to launch a new product, give a presentation or for a social media campaign. But, how many of us question whether we are legally entitled to use the image?
Failing to ensure that an appropriate release is in place can result in organisations of all sizes finding themselves in hot water.
Even if an image is readily available, caution must still be paid to how and where it is used and whether a release needs to be in place before you proceed. A release is a signed document that ensures that the people or property (works of art, trademarks, brands or buildings) featured in an image or clip are safe to use.
While most stock image collections clearly identify where a release has been signed, further limitations may be in place, so it pays to always double check. But it's not just image releases that need to be considered.
Copyright and IP law is complex to navigate. For example, if you're searching for an image using Google Images you may automatically think that it's safe to take your selected images and use them to promote your business or on your blog, but that isn't always the case.
Google has tried to make this easier by introducing search tools functionality, which includes a usage rights filter. Simply type in your search term, click on the 'images' tab below the search bar, then 'search tools' and finally 'usage rights'. You will be presented with four clear options:
Labelled for reuse with modification: This means you can use the image as long as you modify it in some way (eg merging two images). Each licence will specify how an image can be used so make sure you read it.
Labelled for non-commercial reuse with modification: This is the same as above, but after modification the image can only be used for non-commercial use. For example, on your blog, but not in marketing campaigns.
Labelled for reuse: This means you can reuse the image without modifying it, but as mentioned above make sure you check the full terms of the licence.
Labelled for non-commercial reuse: You can use these images without modification but only for non-commercial use. The licence details will give you more information on what this means for each specific image.
To check the licence of each image, click on the image in the Google search results, then select 'visit page' and the licence details should be listed. Sometimes you will find images that are free to use under a creative commons licence but, even then, Google can't confirm that all the licences are annotated correctly. Google places the responsibility of image use firmly with the user, so make sure you read their full guidelines before using any image for your business.
Copyright © 2015 Helen Hicks, head of marketing and customer service at stock image library Alamy, which you can follow on Twitter (@Alamy)