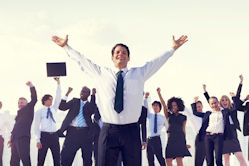 A company administration process can help assist a company that is looking for legal protection while they restructure their business with the hope of being able to trade forward.
If a company is struggling with insolvency and has taken the step to receive professional advice and obtain an independent business review, then a company administration procedure can help support the company while it is restructured.
Every company can benefit from an independent business review, because it can help to identify areas that can be altered to help stabilise a company's cash flow. Cash flow is such an integral part of a business that if issues start to crop up, seeking professional advice at an early stage will help to increase the options available to the company.
If the cash flow forecast of a business looks insolvent, ignoring it will not help find a solution. Directors will need to be proactive in seeking advice on how to improve and find a solution to this problem.
Some of the areas that an independent business review will look at include:
The current trading and financial position of the business.
Profit and cash flow projections.
Current business and financial strategies that are in place.
The current management structure within the business.
A company administration process will not be suitable for all businesses suffering from insolvency. However, it is advisable that a company director contacts an insolvency practitioner during the early stages of insolvency to have business rescue options available to them.
Copyright © 2015 FA Simms & Partners. You can read the original version of this article here.