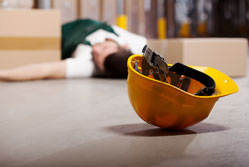 Published recently on the Health & Safety Executive (HSE) website, the Health and Safety Statistics – Key figures for Great Britain 2013/14 provides food for thought for employers.
According to the statistics: "1.2m people who worked during the last year were suffering from an illness (long-standing as well as new cases) they believed was caused or made worse by their current or past work. [Half a million] of these were new conditions [that] started during the year. A further 800,000 former workers (who last worked more than 12 months ago) were suffering from an illness [that] was caused or made worse by their past work."
Tragically, 133 workers were killed at work, which equals 0.44 deaths per 100,000 workers, with 77,593 other injuries to employees reported under RIDDOR (Reporting of Injuries, Diseases and Dangerous Occurrences Regulations 2013), a rate of 304.6 per 100 000 employees.
As HSE reminds us: "RIDDOR places duties on employers, the self-employed and people in control of work premises (the "Responsible Person") to report certain serious workplace accidents, occupational diseases and specified dangerous occurrences (near misses)."
According to the Labour Force Survey (a quarterly national survey by the Office for National Statistics of some 44 000 households), 629,000 injuries occurred at work in 2013/14 (or 2,140 injuries per 100,000 workers), with 148,000 of these leading to a workplace absence of seven days or more.
Still too many employers get it wrong when it comes to health and safety, with HSE having prosecuted 551 cases in 2013/14 and 88 cases prosecuted by local authorities in England and Wales in 2013/14. In Scotland, the Procurator Fiscal prosecuted 35 cases, with 13,790 enforcement notices issued by all enforcing authorities.
So, what was the impact on business and the economy? According to HSE, 28.2m days were lost because of work-related ill health or injury (that's an average of 16 days per case), while 23.5m days were lost because of work-related ill health and 4.7m because of workplace injury. And "injuries and new cases of ill health resulting largely from current working conditions cost an estimated £14.2bn in 2012/13 (based on 2012 prices)." Employers and the government paid half of this; with the rest paid by "individuals" (presumably that means those killed, injured or made ill), but the total cost has fallen significantly since 2006/07 (£16.5bn).
Although one death or serious injury in a workplace in the UK or anywhere else is one too many, without doubt the introduction of the Health and Safety at Work Act 1974 brought about the major reduction in work-related injury and ill health that has happened in recent decades. According to the HSE, in Great Britain between 1974 and 2014 fatal injuries to employees fell by 87%; while reported non-fatal injuries fell by 77% between 1974 and 2012. That's something for which employees and employers can be grateful.
Blog written by Start Up Donut editor and freelance SME content writer Mark Williams.