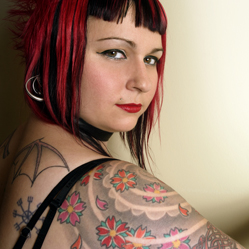 Body art has become part of everyday life throughout western society. Long gone are the days when tattoos were considered a novelty favoured by specific social groups and subcultures.
However, not all employers welcome tattoos, so, should body art enthusiasts be told to cover up their tattoos at work or would this be discrimination? With one in five people in Britain now having a tattoo, this is a relevant employment law issue for many UK businesses.
Employer defence
Employers insist they have the right to make employees cover up if their appearance compromises the company's image. But while there's plenty of examples of workers being asked to leave their job for having "excessive" tattoos, there's a growing number of dismissals of employees with minimal body art.
A recent example of "ink prejudice" involves a business consultant in Milton Keynes who reportedly lost her job because she has an image of a butterfly measuring 4cm across her foot. If body art is part of someone's self-expression, surely censorship of this kind is not far removed from stifling expression of other parts of identity such as sexuality and religious belief?
Considering tattoos to be a form of self-expression also encourages debate over exactly what is an "acceptable" belief. Should a controversial symbol or phrase be permitted just because an individual believes in it?
No clearly defined rules
With no single set of rules in place for having tattoos, organisations are free to put their own in place – and alter them as they see fit. Larger businesses can seemingly get away with this due to their prestige, but smaller businesses relying on a specific image can be damaged if they don't have the right to influence employee conduct.
However, there is room for argument thanks to the Equality Act of 2010, which can be used to claim that censorship of tattoos is an infringement of someone's human rights if the image relates directly to a religious or cultural belief. This law provides "protection for people discriminated against because they are perceived to have, or are associated with someone who has, a protected characteristic".
But does a self-inflicted body modification truly count as a characteristic?
The future of workplace tattoos
With more people getting tattoos, it seems likely that body art will eventually receive less discrimination, but who gets to decide what is acceptable when it comes to body art? The questions are vast and opinions differ widely.
Copyright © 2014 Nationwide Employment Lawyers.