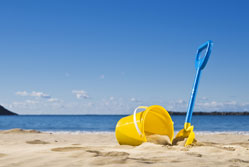 This morning, the weather presenter on the radio pronounced that this weekend the UK would be warmer than Corfu. Then I spied my children's headmaster in the playground in a short-sleeved shirt.
This can only mean one thing - summer has arrived, albeit temporarily if previous summers are anything to go by. For many businesses, this brings with it the nightmare of trying to balance staff holiday requests.
Only yesterday, one of my colleagues asked me about my plans over the school summer holiday. We are a small, but, if I may say so, perfectly formed team. We work very flexibly with several of us working from home at least some, if not all, of the week. Three of us also have school-aged children. Whilst this flexibility means we can let our kids out in the garden or go off with their friends to the local park whilst we work, it is still inevitable that we will all want some time off for a family holiday or even keep an eye on our children from time to time.
As a team, we need to make sure our work is covered. This means that between us we will need to negotiate who has which weeks and how the work is covered when one of us is away. In a small team, this can be relatively easy if you all get along, are prepared to compromise and 'dig in' whilst the team is 'down a woman'. Where this isn't the case, keeping everyone happy and making sure everyone gets their fair share of the prime-time, school holiday isn't an easy act. So how do you manage holiday requests?
1. Start planning early
Ask employees to submit their holiday requests well in advance. There is nothing to stop you allocating holiday on a first-come-first-served basis. Advanced notice of employees' holiday intentions allows you to plan workloads and appropriate cover.
2. Be clear
Let employees know how much holiday they are entitled to. If you impose restrictions on how much, when and how many staff can take leave at the same time, make sure employees are aware of your rules. If you require a minimum amount of notice for holiday requests, make this clear too.
3. Make it fair
Part-time, fixed contract workers are entitled to be treated no less favourably than full-time workers. Make sure your rules do not unfairly discriminate against one group of workers. It may be possible for younger or new employees to argue that allowing senior staff, or those with a longer length of service, first choice on holiday dates is unfair. It could also cause serious resentment amongst staff.
Legally, all staff must take at least four weeks' holiday per year. It's in your interest to make sure your staff take sufficient breaks. Not only to help ensure you comply with the law, but simply because tired workers are less productive and are at increased risk of serious health problems.
You should also make sure you get a break too. Many business owners don't take a holiday for fear of losing clients, money or because they are afraid to delegate work to their staff.
A break from work is good for everyone. You will have a happier and healthier workforce. It will improve the morale and productivity of your staff and - if the weatherman is to be believed - their tan.