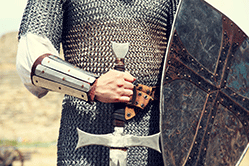 You don't need to be a legal expert to make your blog work for you. You simply need a sense of legal and commercial awareness. And if you are on a website like this one, you are already using those skills. So, here are a few copyright hints for the blogging battlefield.
If you write an original piece on your own initiative (ie it is not one of your contractual duties with an employer), that content is YOURS. That situation changes if the magazine hires you and pays you on contract to write pieces: they would own copyright on what you write within the confines of that contract.
Copyright lasts seventy years after the rightful owner's death. Therefore, certain characters and concepts are now 'public domain'. So I can write a Sherlock Holmes story, blog it and even pitch my take on the character to television and film companies. The specific tweaks on a character, twists on plot and associated dialogue/images used by the recent BBC 'Sherlock' are not public domain, but the character of Holmes and indeed the idea of modernising him are up for grabs (cf 'Elementary': on television and in direct competition to 'Sherlock'). 
I cannot write my own Star Wars movie or Harry Potter book for profit and publication, unless legitimately commissioned to do so by the copyright owners. But no author can own a whole genre. So, I can write 'Wizards in Space' with impunity (copyright, James Murphy!). Equally, I cannot claim copyright on a generic film article format like 'The Ten Greatest Action Movies' (easily written, incidentally, and very common) but I could consider taking action against a writer lifting entire phrases from my version of the article and then passing those off as their own.
If you are using a blog to support your business (for example, patient testimonials or sporting endeavours on a physiotherapy website) then remember to link that blog to said professional website. If yours is a private practice and you have paid web developers to build the site and have invested time and so on, then you must make the tool work for you. The words you write are your assets to deploy: you write them, so that you can harness the power of copyright in service of PR /marketing. You are ensuring a built-in audience; enabling faster sharing on social media.
When in real doubt, seek legal advice. Intellectual Property is a vast and complex area and frequently words such as 'copyright' get thrown around when in fact someone means 'design right' or 'patent' or 'trade mark'. Do not get caught up in or caught out by that trap: clarity is your greatest weapon. 
This isn't an exhaustive list by any means but I do hope it provides some encouraging sense of your ability to stay creative, commercial and connected.
James Murphy is a graduate of New College, Oxford and the University of Law. He is currently working on a screenplay: Anthony Claret Adventures.
Further reading