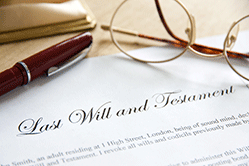 While business owners might be comfortable dealing with their day-to-day finances, having to deal with the financial affairs of a deceased loved one can be a more daunting prospect. There is a growing trend for 'DIY lawyers' to deal with all or part of estate administration, either with no help or professional advice on key issues.
From January to March 2013, Ministry of Justice statistics reveal that there were some 86,000 grants of probate made on personal application, compared to almost 157,000 made on a solicitor's application.
Reasons for growth
Perhaps the main reason for the increase in 'DIY' is the huge amount of free information available online. But, of course, not everything published online is accurate or up to date. Another problem is information only briefly covers main probate topics, not individual situations, which has resulted in some executors committing fraud unwittingly.
A common reason why people want to handle affairs themselves is to save money, of course, since in many cases matters appear fairly straightforward. While this is possible in some circumstances, handling an estate as an executor or administrator comes with huge responsibility – and lacking experience can have disastrous consequences.
Much research is required and tasks are often not as simple as they may first appear. For example, valuations may be required for probate and inheritance tax; IHT forms must be completed regardless of whether tax is payable; monies may need to be collected, outstanding debts settled and the transfer or sale of land, property or shares may need to be made. It may be necessary to trace the deceased's pensions and bank accounts, and gain access to their dormant bank accounts to close them down to distribute those assets. A lay executor would not necessarily have the required knowledge.
Complicating factors
There are also many complicating factors that a trained lawyer would look out for, such as joint assets and unfinalised tax. Additionally, people's financial affairs are often highly disorganised, even when their death is not sudden. Paperwork is often handled incorrectly by well-meaning 'DIY-ers', resulting in assets being discovered after probate has been granted or overlooked completely, which can result in delay and loss of money. If executors do not carry out appropriate searches properly, they may be held personally liable by beneficiaries of the estate.
Another complicating factor comes from the sharp increase in will-related litigation. Late last year The Independent reported a staggering 700% increase over the past five years of cases commenced in the High Court involving a challenge to a will's provision. It has been speculated that this is partly because of the recession, coupled with a fall in asset value in recent years, causing disputes among relatives when a legacy is less than hoped for.
A further complicating factor is the growing complexity of family arrangements – another minefield for the DIY lawyer – with an increase in remarriages and stepfamilies. Under the Inheritance (Provision for Family and Dependants) Act 1975, family members who were not provided for in a will can make a claim (eg if they were formerly married to the deceased or a cohabitee for at least two years preceding the death).
Why use a trained lawyer?
The death of a relative can be a highly emotional time for relatives. Lawyers can give objective and impartial advice, also helping to mediate through difficulties. Lawyers also know the pitfalls, making litigation (and therefore unnecessary costs and delays) less likely.
Using a lawyer is quicker than doing it yourself. While lay executors may find themselves having to jump through hoops to get important information, for example, the deceased's bank balance. Banks tend to respond to lawyers quickly and without any fuss.
While taking on an estate might appear simple, the process can be a minefield, which is why it's better to involve a trained lawyer who can offer the required knowledge and experience to ensure that the deceased's estate is administered as quickly and smoothly as possible.
Blog provided by Breens Solicitors.