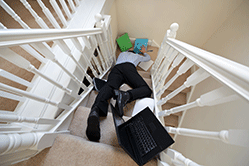 Up until 2008, an individual had to be identified as its 'lead controller' before a business could be found responsible for a person's injury or death. This meant that many SMEs, where directors take an active role in running the company, could be prosecuted, but it made it much harder for larger firms to be found guilty, because no one individual is defined as 'in charge'.
Since the Corporate Manslaughter and Corporate Homicide Act 2007 came into effect in April 2008, companies and organisations can be found guilty of corporate manslaughter as a result of serious failures in health and safety management that lead to fatality.
Although an individual working for a large company might not be able to be prosecuted, the company itself can be heavily fined. Criminal fines issued by a Court can't be insured against, which means if your company is found guilty of negligence that causes injury or death to someone, your company will have to pay the fine.
As well as having to pay a hefty fine, Courts can also name and shame the company at fault, which forces companies to publish details of the offence, the conviction and the penalties received. This type of publicity could be much more damaging than a one-off fine, particularly when it comes to small firms, which are unlikely to have the money to pay for legal and professional PR support.
Protecting your business and those who use it
You are responsible not only for the health and safety of your employees, but also customers, suppliers and members of the general public who visit your premises.
Obviously, the easiest way to protect your business (and anyone who works at or visits your premises) is to ensure your health and safety policy is up to date and watertight.
As a minimum, consider the following points:
Who uses your workplace? As well as your usual staff, consider who else uses your workplace and which areas they might use. People visiting your office might not be aware of known problems that you might be waiting to get fixed, such as loose carpet tiles or poor lighting in certain areas. Ensure these problems are repaired as soon as possible – and flagged with signs in the meantime.
How does your health and safety measure up? Find out what the industry standards for health and safety are in your sector and make sure your policy ticks all the boxes.
Are your risk assessment and health and safety policies current? Ensure your risk assessments are kept up to date (including those involving vehicle use) and review them when circumstances change. As well as checking the official documents, policies and procedures, personally review your business's 'safety culture' to see what happens 'on the shop floor' and how procedures are followed and enforced.
Who would take responsibility if the worst happened? Determine who would be classed as 'senior management' and ensure their competence in that role (even if this is you). Review health and safety training for senior management and yourself if necessary.
Have you reviewed your insurance recently? Employers need to have employer's liability insurance, which covers claims from employees who are injured (or worse) as a result of their work. Check that your policy is up to date and whether the amount for which you are covered for is still sufficient. Also check what insurance cover you have for criminal costs. Many policies cover defence-only costs to Magistrates' Courts level, not Crown Court, where cases associated with corporate manslaughter and homicide would be heard.
Blog supplied by Ralph Clark, associate solicitor and health and safety law expert at Sheffield-based Accident Solicitors Direct.