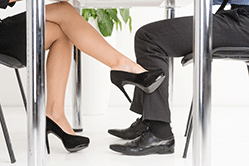 Valentine's Day is upon us (it's on Friday Feb 14 in case you didn't know) and it's a time when love is (supposed to be) in the air and all around.
That can include the workplace too, of course, with many of us meeting our future 'significant others' at work. Examples of well-known couples who met at work include Barack and Michelle Obama, Bill and Melinda Gates, Brad Pitt and Angelina Jolie, Rupert Murdoch and Wendi Deng, Jude Law and Sienna Miller.
While some couples that meet at work go on to marry and/or live happily ever after together, many workplace romances are short lived and some end in tears. And when they go wrong, relationships can quickly sour and this can have serious consequences for employers.
Nasty fall-out
Jo Eccles, business adviser at the Forum of Private Business says having a clear policy that sets out your business's stance on relationships between employees can prevent "nasty fall-out" later on.
According to Eccles: "Depending on which survey you read, the number of people who've been involved in workplace liaisons is anywhere between 30% and 70%. There is no law against office romances, and while an employer might not like them, it doesn't mean they can legally stop them. However, employers have the right to expect their employees to behave in a professional manner while at work and all parties should bear in mind that romantic liaisons may create conflicts of interest."
These, she says, can affect "the trust and confidence of colleagues in relation to a conflict of interest, fair treatment or their own ability to discuss issues openly with, for example, their line manager. Then there is the perception of the other employees, clients or customers in relation to professionalism and fairness of the business and its employees, or conflicting loyalties and breaches of confidentiality."
Matter of policy
Eccles says that while some businesses have rules that do not allow employees working in the same department to enter into romantic relationships with each other, "many employers find the best approach is to put in place a policy that deals with relationships in the workplace".
This includes defining what a close personal relationship is, as well as requiring that personal relationships between staff must be disclosed to a line manager, "to flag up any potential conflict of interest". She says alterations to procedure may also be required, such as changes to supervision, shift or work patterns, while employees need to know what to do if a personal relationship with a colleague breaks down.