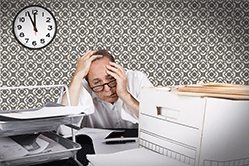 According to research published by the Chartered Institute of Personnel and Development (CIPD), the professional body for HR and people development, 36% of line managers haven't been trained in how to supervise people, which is creating serious cultural problems within organisations.
The CIPD research found that because time is such a scarce commodity for business owners, who must juggle many roles and sort out many things each day, staff management isn't given due attention.
The organisation is urging businesses to "reinforce the messages of line manager training with clarity of roles and expectations, rigorous assessment processes, and relevant incentives".
Warning of key dangers, the CIPD adds: "With 24% of managers facing situations where they often have to put the interests of their organisation above the interests of their team members, many might be left confused and aim for quick wins over the interests and wellbeing of team members, damaging important relationships which could otherwise drive high-performance working."
The survey – Real-life leaders: closing the knowing-doing gap – also found that "efforts to foster positive manager behaviours are being undermined by the lack of a consistent message of what organisations expect of managers", while 28% of respondents have not taken any action after receiving poor feedback on line managers. Such a high percentage will no doubt confirm suspicions held by many a dissatisfied employee.
Ksenia Zheltoukhova, CIPD research associate, says: "We hear organisations lament the lack and quality of leaders, but we aren't seeing evidence of their commitment to drive good leadership and management practices.
"For 29% of managers in our survey, other priorities stand in the way of ensuring that [team members'] interests are supported, raising questions about the priorities that managers – and organisations – attach to staff wellbeing. These findings are a wake-up call for businesses to re-align their systems and structures to support leadership development.
"Businesses address issues such as poor customer service or faulty machinery straight away, whereas bad management is tolerated to a shocking degree. Nearly half [of survey respondents] confessed that individuals were promoted into managerial roles based on their performance record rather than people management or leadership skills.
"It's time for businesses to identify and address the roots of bad management, recognising that a more consistent approach to training and supporting leaders at all levels is needed to drive sustainable performance."
The full report is available to download from here.