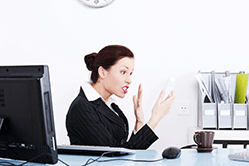 Treat your employees unfairly and your sensitive information could walk out the door, that's the worrying conclusion of research carried out by my company, Iron Mountain.
The resources invested in meeting increasingly stringent data protection laws could be wasted if businesses fail to tackle the emotional fallout of employees who believe they have been treated badly.
Our study of office workers across the UK suggests a surprising number are prepared to lash out against employers when either they've been held responsible for something they believe wasn't their fault (21%) or treated unkindly (19%).
How do employees take revenge? 22% are happy to vent their feelings across the office, while 24 per cent would let off steam via email, usually to their friends and family. But only 8% would seek revenge by deliberately taking confidential or sensitive information out of the office, regardless of whether or not it was related to the original incident.
When it comes to what people would take, valuable customer databases are the most likely items to be taken in revenge (45%) followed by presentations (39%), strategic plans (13%), company proposals (9%) and product/service roadmaps (7%) – all of which, if in the wrong hands, could harm a business' competitive advantage, brand reputation and customer loyalty.
Those in the HR department appear to be the most sensitive, with 32% saying they would take revenge in response to unfair blame, and 28% saying they would do so if treated unkindly ─ compared to 13% of those at the director level or above and 16% in sales.
Job-related setbacks were found to be far less likely to trigger revenge. Job loss (18%), poor performance reviews (6%) and missing out on promotions or pay rises (8%) are far less likely to result in data revenge.
When it comes to employee behaviour with information it's a case of heart over minds, with personal feelings of disgruntlement leading people to take data revenge. Companies need to realise that responsibility for information security goes beyond guidelines and processes, it's also about improved people management and training.
It is deeply worrying to see that senior employees are more likely to put the company at risk of a data breach and reputational damage by removing information. A culture that promotes respect for information should come from the top, with senior management leading by example.
Blog supplied by Anne Best, VP Human Resources at Iron Mountain, provider of storage and information management solutions.
Further reading