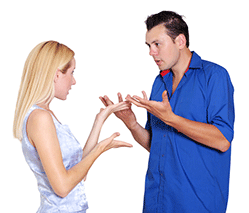 As of 1 April this year, the government is hoping to trim some £350m from the £2bn Legal Aid budget by scrapping almost all Legal Aid for private family law cases. 
Legal Aid will only be available for Family Law cases involving allegations of domestic violence and abuse. The government is placing new emphasis on family mediation as a way to resolve family disputes, hoping that fewer of these cases will end up in court. 
Family mediation is the process by which separating couples can side-step traumatic and divisive courtroom battles, by working with an independent mediator to resolve disagreements over arrangements for their children and how to divide up finances.
Quicker and cheaper
The government has said it will increase the amount of money it provides for legally aided family mediation, upping spending by £10m, taking the total spent on mediation to £25m. National Audit Office figures show that, on average, mediated cases are resolved around four-times quicker and cheaper than cases that go to court.
Family mediators are pleased by the change of direction, but worried about how people will access their services. Mediation is still relatively unknown to the general public. How will people know that public funding is available for mediation? And how will people find reputable qualified family mediators?
Judges are concerned that the cuts in public funding will mean there will be a rise in the number of litigants in person who inevitably take up more court time and may increase the backlog of family law cases. And some solicitors say that focusing legal aid on family law cases involving accusations of domestic violence may provide a perverse incentive for these allegations.
As someone who has worked as a family mediator for more than 15 years, I see this April as a time of uncertainty, but also of great possibility that in the future mediation will become the norm. Mediation will be first port of call for separating couples.
Another reason why mediation looks set to grow are rules that came into effect in April 2011, which meant that judges are supposed to ensure that all separating couples who are embarking on the court process have at least considered mediation.
Mediation information and assessment meeting
Couples are supposed to try what is called a 'MIAM' (a mediation information and assessment meeting), during which the benefits of mediation are explained and the couples' suitability for mediation assessed. In fact, in many parts of the country judges have been ignoring this directive and it is now thought that legislation may be needed to make MIAMs compulsory.
A Ministry of Justice study has shown that when couples use mediation first, before getting to court, they are more likely to be able to continue to mediate their disagreements. The report also showed that fewer people needed further assistance with arrangements for their children after using mediation.
As well as being quicker and cheaper, family mediation can provide solutions to peoples' disagreements that are tailor made to them as individuals, rather than court-imposed decisions that may not suit their needs. 
Mediation can get into the small details of how a separation will work, in a way that a formal legal process never could, even to the extent of discussing nurseries, bedtimes, dropping off plans, holidays and extended families. Mediators can also work with parents on how to break the news of separation or divorce to their children.
Research suggests that 12 years after separation, couples who have gone through the mediation process are still reaping the rewards, with both parents more likely to have a good relationship with their children, and an ability to communicate as parents.
So rather than being seen simply as a way to cut costs, or to keep things out of court, the real value of mediation can be seen in the way in which it helps to improve genuine life-long communication between former partners. Divorce and parental separation is a fact of modern life which will not go away. Family mediation provides parents with an effective way of managing the process and its consequences.  As one of my former clients once put it: "If it hadn't been for mediation, we'd still be fighting now." 
Frances Place is a qualified solicitor who works as a mediator at Progressive Mediation.