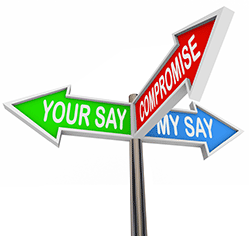 Third-party mediation between you and your ex can be eight times cheaper and a lot less traumatic than hammering it out in the divorce courts.
With January rates at their traditional annual peak, divorce is on the rise again. And since split rates started climbing again in 2011, the Government has insisted that couples who separate try mediation to sort out the practicalities of divorce before they resort to battling it out with the judge. Initially, reports suggested that the scheme wasn't terribly popular.  
But while the Ministry of Justice might seem an unlikely family counsellor, two years on it turns out that couples who used mediators to settle division of their assets and the children had their divorce done and dusted in a quarter of the time. And spent just £500, as opposed to the average £4,000 their day in court would cost them.  
In divorce, arguing is tempting - and expensive. In a recent Telegraph interview, family justice minister Lord McNally promoted mediation by pointing out that: "All too often money is wasted on expensive and traumatic court hearings that can take far too long to resolve. 
 
"That is why we want to help people to use mediation, a quicker and simpler approach which brings better outcomes." 
Many in the divorce industry also feel that endless trips to court to resolve trivial issues are damaging to children, stop couples  moving on and wipe out family assets that, ironically, the law is there to protect. However, where an adult or a partner is in danger from a violent ex, parent or step-parent, the case goes immediately to court.  
Mediators must be qualified, but don't necessarily have a legal background, and agreements reached through mediation are not in themselves legally binding so you will each need a solicitor too. It's a good idea in any case to seek advice from your solicitor alongside the mediation process. A good lawyer will put you in touch with a mediator who might suit you and your ex.
An alternative to mediation is collaborative law. Increasingly popular for couples, collaborative law has similar advantages to mediation. Here, each of you uses a specially trained collaborative lawyer to resolve the split as painlessly as they can. Crucially abandoning the old-school adversarial approach, both lawyers sign an agreement to work together to avoid conflict and court and keep the family as stable as possible during a time of difficulty.
Some larger firms of solicitors offer all three options: mediation, collaborative law, and traditional legal services.
The average divorce takes about four months in mediation and over a year in court, so it's much faster too. With family wealth at risk during lean times, plus cuts in legal aid on the horizon, using mediation makes ever more sense; many more people will need a cheaper divorce, and no one ever needed a more stressful one.
Georgina Harris is an author and editor.